Moffitt Announces Purchase Agreement with Romlair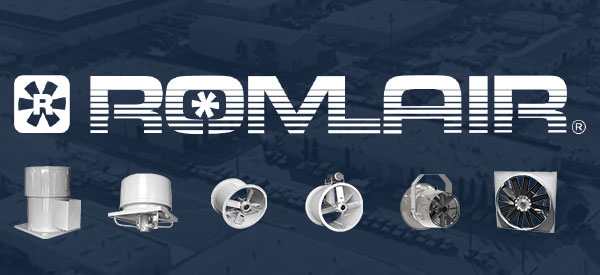 Moffitt, LLC (Moffitt) is honored to announce that we have agreed to purchase Romlair Fan Company (Romlair). This purchase includes its corporate office and warehouse in San Diego, California and manufacturing facility in Tijuana, Mexico. Like Moffitt, Romlair is a family business. The Haneline family founded Romlair in 1945, and they have operated it ever since. They manufacture high-quality ventilation fans, air circulator fans, steel wall louvers, gravity ventilators, and turbine ventilators. For nearly 80 years they have been a leader in ventilation and spot-cooling equipment for commercial and industrial applications in California and in distribution centers throughout North America.
Our purpose at Moffitt is to be the best in North America at creating better work environments. Our direct sales team deliver ventilation solutions throughout North America. The Romlair line of powered ventilation equipment joins the natural ventilation solutions fabricated at our recently expanded Denison, Texas facility. The addition of Romlair positions Moffitt to expand our ventilation solutions into the light industrial market. This market includes warehouses, distribution centers, and more. At the same time, this expansion increases our physical presence into California and the West, and complements our operations in Monterrey, Mexico.
Moffitt solutions include natural ventilation, power ventilation, natural evaporative cooling, and industrial HVAC make-up air systems. Additionally, we serve end-users, contractors, and engineering firms throughout North America. Our core values of fanatical customer service, building strong relationships, and creating personal and professional growth opportunities for our team members, have been integral to helping our business continue to grow.
At the present time, Moffitt has signed the purchase agreement. Transfer of ownership will take place on September 1st.
Furthermore, to learn how this purchase agreement might impact your orders, or to start creating a better work environment for your facility, contact the Moffitt team today.