The GulfStream fan circulates air to provide an even breeze to the work area. These mounted units are often called "spot-cooler" fans because they focus a high-velocity jet of air directly on the personnel. On average, a GulfStream fan is more effective than pedestal fans for cooling a large area.
Standard Features
Direct drive motor.
High performance zinc-alum propeller.
Attractive deep spun 14-gauge steel housing.
Safety guards on both the inlet and exhaust side of fan. 1/2" mesh galvanized steel screen.
Motor mounting bracket designed to fit most standard off the shelf motors.
Power cord furnished (single phase units only.)
Fan housing coated with a thermally fused powered polyurethane black finish.
2-year warranty.
Product Catalog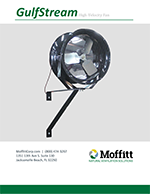 Product Testing and Certification
Airflow performance modeled
Product Mounting
Gulfstream air circulating fans are wall or column mounted with easy positioning adjustment.