Jalousie Windows Gaining Popularity in Engineered Commercial Buildings
The beautiful look and design of jalousie windows coupled with its engineered-to-perfection functionality make the Coltlite jalousie windows immensely popular in commercial and light industrial facilities nowadays. The cooling efficiency and sleek design make them a favorite among many highly engineered and state-of-the-art commercial buildings.
What are the Recompenses of Jalousie Windows?
With an aesthetically appealing design, the main benefit of jalousie windows is their ability to provide natural ventilation. When air inside gets stagnate, they encourage airflow by letting fresh air to enter and warm air to leave. A jalousie window can have a significant impact on building temperatures. A constant influx of fresh air will also keep the atmosphere pleasant and add some vigor to the workers in the buildings.
Natural Daylighting of Jalousie Windows
Jalousie windows are an architectural and interior design statement piece. There is a variety of glazing and thermal options to best meet design requirements. Instead of choosing between natural ventilation, daylighting, and beautiful walls, the building can have all three.
The translucent panels bring in ample amounts of daylight throughout the day. This can significantly reduce the electricity bills that would otherwise go towards lighting. It also helps enhance the environmental conditions of your workspace. There can also be benefits made by looking into tinting services for commercial building windows that can help with UV rays and temperature control. Just as workers like to breathe fresh air, they also like to see natural daylight. They are certified EN-14351-1 for fa. To enhance all the natural light coming through the commercial windows, proper cleaning should be executed for maximum quality.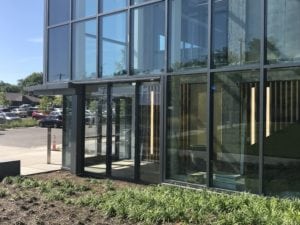 Controlling Heat and Smoke with Jalousie Windows
While jalousie windows effectively sustain day-to-day ventilation they are also utilized as a natural heat and smoke control device. In the event of a fire, the panels automatically open allowing fresh air to enter the building and encourage the smoke emitted by the fire to evacuate from the building in a controlled fashion. When fitted with automatic operators and smoke sensors, a jalousie window performs this function automatically.
Moffitt Coltlite Jalousie Windows
Moffitt Coltlite jalousie windows are high performance natural louvered ventilators. They are tested and certified under the following European standards. EN 14351-1 as natural ventilators and EN 14351-1 as façade elements for inlet and extract ventilation as well as natural daylight into the buildings. Most importantly, they are certified EN 12101-2 as smoke ventilators. This means they are certified life safety devices.
Moffitt Corporation
For commercial buildings, jalousie windows are a perfect choice. They are aesthetically pleasing, offer ventilation benefits, and function as a life safety device. Moffitt Corporation has been providing Natural Solutions for over 55 years. Along with Colt Groups decades of experience, you can be sure that the Moffitt Coltlite will deliver. Consider jalousie windows for your next commercial building project.