Recapping Moffitt's Strategic Initiative Conference
On October 16th, the Moffitt team held our Soaring 20's Strategic Initiative Conference in nearby Ponte Vedra Beach, FL. This all-day conference included some big announcements and laid out the vision, mission, and values that will carry Moffitt through the next ten years of growth.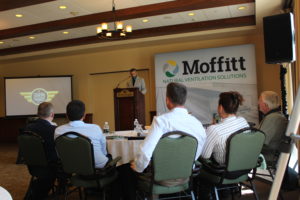 The last conference, Moffitt Melding, was held 10 years ago in 2009. Now, as Moffitt enters the year 2020, and its sixth decade as a company, it was clear that it was time to do it again.
The meeting kicked off by John Moffitt laying out the Vision, Mission, and Values for the combined Moffitt companies. He discussed what they mean to him and how he sees them as an integral part of the company's future. They are;
Vision: To be the best at helping people achieve sustainable building designs using Natural Ventilation Solutions.
Mission: To provide engineers, architects, contractors, and owners with Natural Ventilation Solutions for their industrial, institutional, and commercial projects delivered through a collaborative design, manufacturing, and installation process supported by outstanding customer service.
Values: To create a culture dedicated to service, to building strong relationships, and to the development of our team members' personal and professional growth.
This was followed by presentations from the Directors and Management Team about sales goals, product development, factory improvements, the new employee handbook, compliance strategies, and more. There was also the announcement of the new expanded Management Team and new promotions. Click here to read more about that announcement.
Finally, Moffitt Executive Team member Vince Narkiewicz was honored for his 30+ years as a consultant to Bill Moffitt, mentor to John Moffitt, and guiding force for the whole Moffitt organization.
"The Soaring 20's conference was such a fun day," said Master of Ceremonies Mark Hannah. "It was more than an aviation themed pep rally, It was a day where the company's plans were illustrated to the whole Moffitt Team, preparing our whole business for takeoff into the next decade."
Thanks to Kimberly Dove, Mark Hannah, the marketing team, and everyone else for making this event possible. See you again in 2030.