The RidgePac small natural air ventilation system is designed to be mounted on the ridge of the building to ensure maximum warm air exhaust. This natural ventilator has been designed to be highly efficient, aesthetically pleasing, and an excellent value with low-cost per CFM.
Made of galvanized steel, RidgePac units are available with throat sizes measuring 9" thru 24". Custom orders are available with a variety of optional features.
Furnished in self-contained ten-foot modular units, the RidgePac is made for fast and easy installation. Units sit end-to-end with one another, overlapping to ensure that there are no gaps or leakages. As such, they can fit any building, regardless of length, and can be used in any application.
Standard Features
Throat sizes: 9" – 24"
Length: 10' – 1000'+
Installation Instructions
Birdscreen
Optional Features
Dampers
Custom Finish
Materials
Product Catalog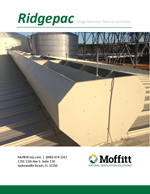 Product Testing and Certification
Airflow Performance Modeled
Product Mounting
The RidgePac is designed for ridge mounting only. Anchor connection is standard.