The SG Vent natural ventilator is used in various commercial and industrial applications. It is simple but versatile and conforms to the Army Corp of Engineers Bulletin CE 220.09 for gravity ventilators. The SG Vent is very reliable and is compatible with a number of different ventilation accessories.
Product Catalog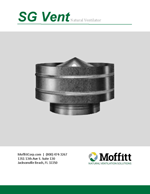 Product Testing and Certification
Airflow Performance Modeled
Product Mounting
The SG Vent is mounted on the roof.