The SG Vent (Stationary Gravity) natural ventilator is ideal for cost-effective, low volume flow ventilation. This round, stationary ventilator is a sleek, efficient, and versatile device.
It is compatible with a variety of different ventilation accessories for any number of applications and uses. As a result, it is used in a wide range of commercial and industrial applications.
Each vent conforms to the Army Corp of Engineers Bulletin CE 220.09 for gravity ventilators. Contact the Moffitt team to learn more about the SG Vent.
Standard Features
Galvanized Steel Construction
Bird screen – 1/2" Mesh 19 Gauge Galvanized
Optional Features
Air Dry Enamel Finish
Roof Base
Disc Damper in Throat
Insect Screen
Diverter Cone
Quadrant Operator
Product Catalog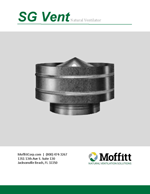 Product Testing and Certification
Airflow Performance Modeled
Product Mounting
The SG Vent is mounted on the roof.