About Us
Moffitt Corporation has been providing industrial ventilation solutions since 1961. The Moffitt team of system design engineers, ventilation equipment manufacturers, and ventilator contractors will take your project from inception to completion.
We also work directly with Contractors, Plant Managers, and Engineers. Therefore whether it's product sales or full turnkey service, we can help.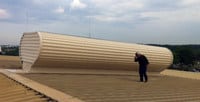 The Moffitt Corporation sales and design office is located in Jacksonville Beach, FL. Our team is supported by our Regional Sales Managers in Ohio and Florida, our District Solutions Providers in Texas and Pennsylvania, and our Local Field Offices located throughout the country.
We're happy to come to your plant to better evaluate your ventilation equipment needs, or we can draw-up a design with just photos and a building description. Our team will ensure that you have the best system for your facility.
Additionally, you can rest assured knowing that the ventilation equipment shipping from our factories in Florida, Texas, and California are quality made and just right for your project.
High-quality Moffitt Natural Ventilation Solution products include:
Natural Ventilators like the MoffittVent™, Labyrinth, Thermoflow, and more
Wall Louvers, including the exclusive EcoStream 90
Firex Heat & Smoke Relief Vents
Apollo daylighting natural ventilators
CoolStream evaporative cooling units
Propeller Wall and Roof Fans
Axial & Centrifugal Fans
Make-Up Air Units & Heaters
Commercial Ventilation Products including the Coltlite, Kameleon, and more
For more information please see our Products Page.
Moffitt West has been manufacturing natural ventilation equipment for over 20 years. Located in Denison, TX this plant has been in operation for decades and just joined the Moffitt family in 2016. This team has manufactured quality ventilation products like the Labyrinth natural ventilator, Thermoflow low-profile ventilator, and the Firex Heat and Smoke vent. They are also responsible for Moffitt R&D and working with customers to tailor products to specific building requirements.
Moffitt has additional production centers throughout North America as well as locations around the world including Europe, China, and more. For more information please see Product Manufacturing.
Ventilation contractors that do everything from site inspections to start-up services, Moffitt Mechanical is your one-stop-shop.
Moffitt Mechanical is the industrial ventilation contractor for Moffitt Corporation, specializing in the installation of natural ventilation systems. Supervision and start-up services are also available in select industries. By working with a ventilation contractor like Moffitt, you can rest assured the job will be done right the first time.
To learn more about our ventilation contractors and our turn-key solutions, see Mechanical Contracting.