About Us
Moffitt has been providing industrial ventilation solutions since 1961. The Moffitt team of ventilation design engineers, equipment fabricators, and installers work together to provide complete turn-key service. Our team will take your project from inception to completion.
Read on to learn about us, what we do, and how we can help you create a better environment in your facility today.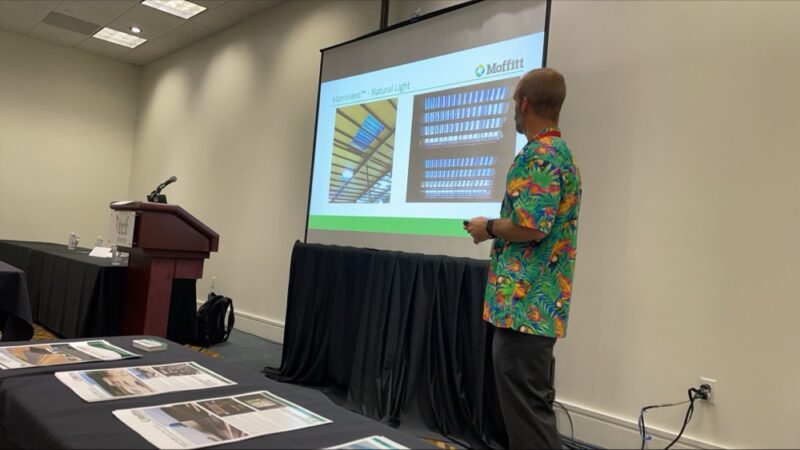 The Moffitt sales and design office is in Jacksonville Beach, FL. National Sales Manager Seth Nickol leads the outside sales team of District Solutions Providers (DSPs). You can find Moffitt DSPs in Texas, Missouri, Arkansas, Pennsylvania, Ohio, and California. Learn more about our district sales team on locations page.
We're always ready to visit your plant and evaluate your ventilation needs in-person. Or, if you need a solution now, we can develop a design with some building photos and a description of your problem. Our team will ensure that we find the right solution for your facility.
Moffitt Ventilation Solutions include:
For more information about these solutions or our products, please see our Products Page.
Moffitt has been manufacturing ventilation equipment for over 20 years. From the main plant in Denison, TX the team manufactures MoffittVent ventilators, MatrixVent ventilators, EcoStream wall louvers, and more. The manufacturing team works with our customers to make products that meet their specific requirements.
The main factory in Texas is supported by additional facilities in Florida, California, and Mexico. Each facility has a commitment to manufacturing quality natural ventilation solutions.
For more information on our equipment fabrication process, please see our Product Manufacturing page.
Moffitt is your one-stop-shop for natural ventilation solutions. The Moffitt team, along with our Moffitt Certified Installer partners, can handle everything from site inspections to supervision to start-up services. The Moffitt team is one of the only mechanical contractors in the North America that specializes in natural ventilation.
Turn-key ventilation contracting from Moffitt allows you to have the design, manufacturing, and installation teams in constant communication, with one source and one responsibility.
To learn more about us, our ventilation contractors, and our turn-key solutions, see Mechanical Contracting.