Natural Ventilation System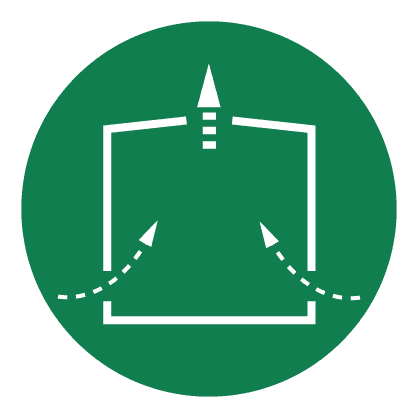 A Natural Ventilation system utilizes a ceiling opening for warm air exhaust and a natural intake for fresh supply air to create a better working environment. Warm air naturally rises, a natural ventilator just allows it to escape. Contact the team at Moffitt today for a cooler, more comfortable facility.
A natural ventilation system has zero operating costs and zero maintenance costs. It is the natural solution for commercial and industrial building ventilation.
Moffitt has been designing natural ventilation systems for over 60 years. We utilize advanced ventilation design techniques, such as CFD computer modeling and wind-tunnel testing, to find the right solution for every project. The Moffitt team has implemented natural ventilation systems in hundreds of facilities in dozens of industries.
Natural ventilation systems utilize non-powered, passive exhaust equipment (MoffittVent™ or MatrixVent™) along with passive intake devices (EcoStream wall louver) to make a building ventilation cooler and more comfortable.
Benefits of Natural Ventilation
Eliminate operating costs
Eliminate maintenance costs
Operate silently
Remove hot, humid air
Remove smoke and fog
Increase fresh air at the floor
Improve personnel comfort
Create a neutral pressure environment
Encourage environmentally conscious practices
About Natural Ventilation Solutions
Have questions about which natural ventilator or ventilation system is the right solution for your facility? With just a few questions we can provide you with a preliminary ventilation system design and advise you on the best roof ventilator & fans options. Read more about natural ventilation versus powered ventilation in the blog post found here.
Contact the Moffitt team today for a free ventilation solution design estimate. We can also teach you how to design with natural ventilation and how to create a better environment in your facility.