Powered Ventilation System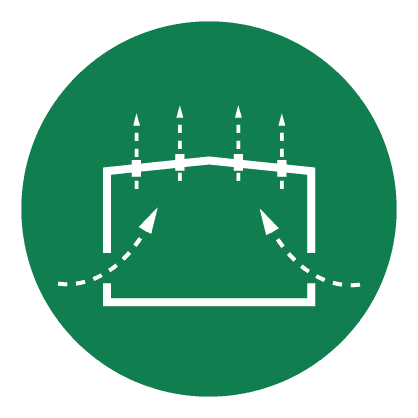 While Natural Ventilation is always our first choice it doesn't work in all facilities. In some spaces, like small, enclosed rooms or rooms with low ceilings, a Powered Ventilation System is the best solution.
A powered system uses exhaust fans on the roof to pull the hot, dirty air out of the room with a greater force. Powered ventilation systems work especially well in situations where the intake side of the fan can be placed near the heat source, like work rooms and kitchens.
Finding the right powered roof ventilation system can be tricky. That's where we come in. Moffitt has been designing, manufacturing, and installing roof vent and roof vent fans for nearly years. We can help you find the best roof ventilator, roof vent fans, commercial exhaust fans, and powered ventilation systems for your facility. At Moffitt, we like to say that we StreamLine the ventilation selection process.
Our team will look at the whole system, intake, air changes, air flow, and exhaust, helps us develop a whole system design. Then we can determine the type, quantity, and location, of fans needed for maximum performance. This results in a more effective ventilation solution.
Aside from manufacturing powered ventilation systems, we also design and install them. We are a one-stop-shop for natural and powered ventilation systems, ensuring that your facility has the right ventilation from the start.
Our Powered Ventilation Fans Include:
Pressure Stream – Designed for commercial and industrial use.
Hooded Roof Fan – Designed for industrial and commercial application in various industries.
Wall Fan – Used for intake in Industrial and Commercial buildings.
Upblast Fans – Ideal for providing general ventilation to hot, stagnant areas.
Tube Axial Fans – Used in areas that require changes in static pressures.
Benefits of Powered Exhaust Ventilation
Best performance in enclosed spaces
Removes hot air and fumes at the source
Powered Ventilation® Video
Have questions about which ventilation system is the right solution for you? Call the Moffitt team today for your Free Ventilation Design.
With just a few questions we can provide you with a preliminary ventilation system design and advise you on the best roof ventilator & roof vent fans options. Read more about natural ventilation versus powered ventilation in the blog post found here.