Powered Ventilation System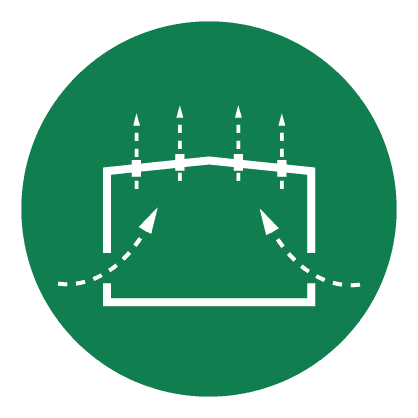 Moffitt can help you find the right powered ventilation solution for your facility. Finding the right exhaust fans for your building can be a challenge. Fortunately, Moffitt is here to help you find out which type of fans you need, how many are required, and where they should go.
There are two types of fan configurations. Exhaust fans to pull hot, dirty air out of the room, and supply fans to introduce fresh, clean air into the space. Supply fans can be mounted on the roof or the side wall. Exhaust fans sit on the roof to work in conjunction with the natural rise of heat. Powered exhaust systems work especially well in spaces where the intake side of the fan can be placed near the heat source, like work rooms and kitchens.
Hybrid Ventilation Systems utilize a complete building approach to achieve the right solution for the given facility. By combining ventilators and exhaust fans in a way that works with the buildings natural airflow, more effective and efficient systems can be designed.
This allows for a more comfortable environment where the plant personnel are working without wasting energy to cool spaces that don't need it. State-of-the-art computer control systems are often used determine the right conditions and adjust the system accordingly. With a Hybrid System, Natural Ventilation Solutions can be put to work in facilities where it may have previously been impossible.
Our Powered Ventilation Fans Include:
Pressure Stream – Commercial and industrial use.
Hooded Roof Fan – Designed for industrial and commercial application in various industries.
Wall Fan – Used for intake in industrial and commercial buildings.
Upblast Fans – Ideal for providing general ventilation to hot, stagnant areas.
Tube Axial Fans – Used in areas that require changes in static pressures.
Benefits of Powered Exhaust Ventilation
Best performance in enclosed spaces
Removes hot air and fumes at the source
About Powered Ventilation Solutions
Have questions about which commercial or industrial powered ventilation system is the right fit for your building? With just a few quick questions, we can start on your new ventilation system design and advise you on the best roof ventilator & fan options. Read more about natural ventilation versus powered ventilation in the blog post found here.
Call the Moffitt team today for a free ventilation solution design estimate. We can also teach you how to design with natural ventilation and how to create a better environment in your facility.