Ventilation Installation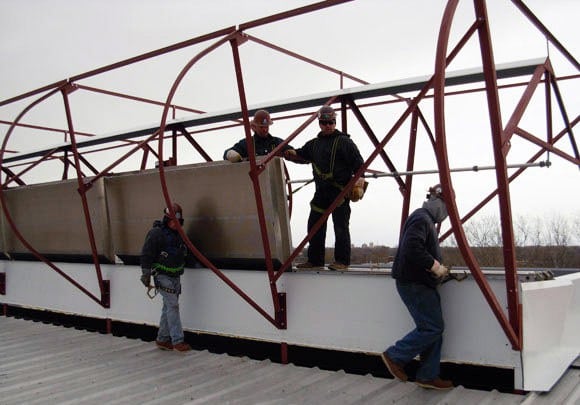 Moffitt Mechanical is a specialty ventilation contractor with a focus on natural ventilation installation.
Ventilation isn't a part of what we do, it's all we do.
Our team has decades of experience installing ventilation equipment. We have the know-how to ensure that your system is put in quickly, efficiently, and to your satisfaction. No other contractor has the ventilation experience that you'll find with Moffitt.
Moffitt Mechanical focuses on Natural Ventilation Systems. We install natural ventilation equipment like Ridge Ventilators, Gravity Hoods, Gravity Ventilators, Wall Louvers and more. Of course, we install a variety of powered and specialty ventilation equipment products as well. This includes everything from heaters, to make-up air units, to fiberglass products. Additionally, this also includes Pressure Gravity Ventilation Systems® which include both natural and powered equipment.
We are a licensed mechanical contractor throughout the United States (40+ growing) and our team has the knowledge to recommend the best industrial ventilation system for you. Our crew has worked on every type of building in every type of climate. High roofs, steep roofs, and even roofs with limited access are no problem. We also work both new construction projects and retrofit projects.
Our team goes to great lengths to coordinate with your production schedule, completing our work with minimal interruption to your process.
Safety
Safety is the first order of business for every job. We develop a site-specific safety plan before we begin each new industrial ventilation project. Each safety plan documents that job's particular risks and challenges, and reviews the associated safety precautions. This safety plan is then discussed with the team prior to the beginning of work each morning at the tool box meeting.
At Moffitt, our mission is to be prepared for anything and to prevent problems before they start. Moffitt is committed to providing a "Zero-Incident, Zero-Accident" job site.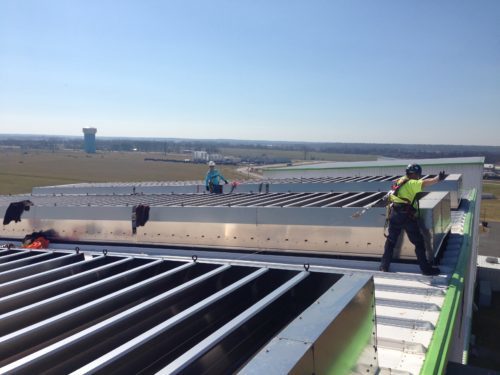 Ventilation Installation Video