Ventilation Installation

Moffitt installs industrial ventilation equipment for facilities of all shapes and sizes. We have decades of ventilation installation experience, dating back to the beginning of Moffitt in 1961. No other contractor has the industrial ventilation and natural ventilation experience that you'll find with the Moffitt team.
Moffitt provides turn-key installation solutions nationwide through our network of pre-certified subcontractors called Moffitt Certified Installers, or MCI. Click here to learn more about the MCI network.
Natural Ventilation
Ridgepac

™

natural ventilators
Gravity Ventilators
Wall Louvers
Specialty Ventilation
Pressure Gravity Systems®
roof fans & wall fans
specialty ventilation equipment
Experience
At Moffitt, we have worked on every type of roof including high roofs, steep roofs, and roofs with limited access. This also includes standing seam roofs, built-up roofs, and roofs currently under construction. Our team works on both new construction and retrofit projects. We schedule our installation plans to works around your operations, and we strive to complete our work without interrupting yours.
Moffitt is a licensed contractor throughout the United States. Some licenses are at the state level, and some are in specific municipalities. Click on the map below for licensing information.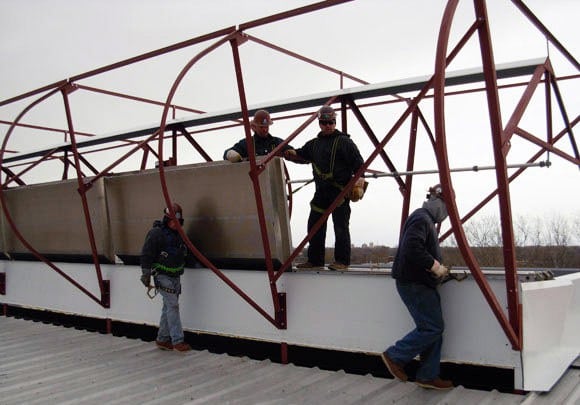 Safety
Safety is our priority on every job.
At Moffitt, we develop a site-specific safety plan for each installation project. Before we begin any work on a new industrial ventilation project, we assess the associated risks of that job. We check building height, roof slope, weather conditions and more to get a complete picture. Our team then writes a safety plan specifically for that site detailing the jobs challenges, required precautions, etc. This safety plan is then reviewed with the team members at the toolbox meeting before work begins each morning.
At Moffitt, our mission is to be prepared for anything and to prevent problems before they start. Moffitt is committed to providing a "Zero-Incident, Zero-Accident" job site.
Ventilation Installation Video