Natural Ventilation Solutions for Chicago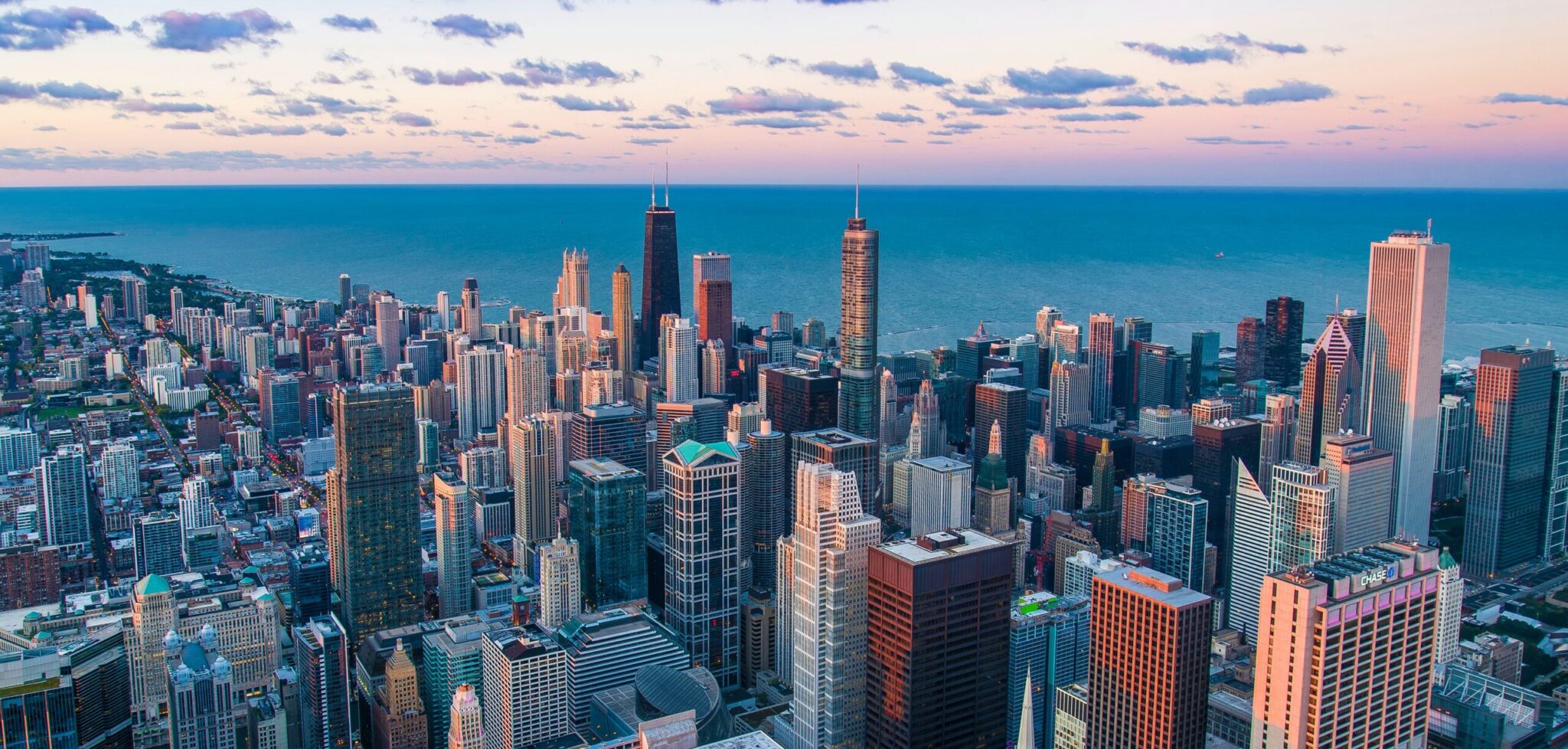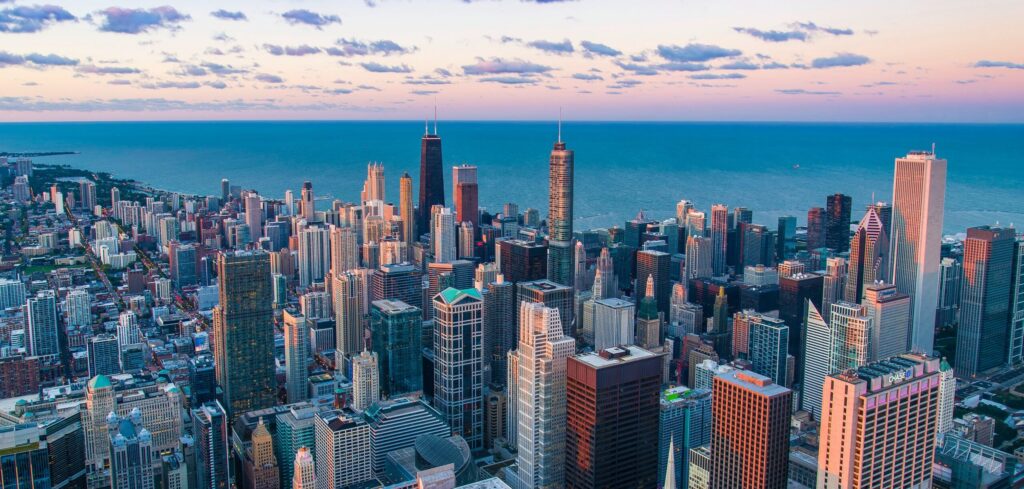 Industrial and Commercial Ventilation for Chicago, IL
Moffitt now provides natural ventilation solutions specifically for the Chicago area. Contact our team now at (904) 474-8333 to get started on a new ventilation solution for your facility. Moffitt provides a variety of commercial ventilation services and industrial ventilation services. This includes product sales, system design, and custom fabrication.
While we've been installing ventilation systems in Chicago and the Midwest for over 60 years, we now have a dedicated salesperson right in your area. If you're looking for an in-person site visit or a system evaluation, it's now easier than ever before.
Serving Chicago for Over Sixty Years
Since Moffitt was founded in Pittsburgh, PA in 1961, we have provided natural ventilation solutions to facilities in and around the Chicago area. National Sales Manager Seth Nickol serves the Chicago area. He is supported by a full team of Project Engineers. By working together as a team, Moffitt can design the best ventilation solution for your facility.
Seth knows the Chicago area. He knows how hot and humid it gets in the summer and how incredibly cold it can be in the winter. He's been in plants just like yours and felt those conditions firsthand. What's more, he's seen these very same ventilation solutions work wonders in plants just like yours. That means you get a personal recommendation from someone who knows what they're talking about. Much better than just choosing something from a catalog.
In fact, just by looking at a building a Moffitt team member can often make a recommendation on the spot. Moffitt can help you solve your problem no matter what it is. Sometimes it's just a quick solution, like a GulfStream fan to spot cool a work area during the hot Chicago summers. Other times it's a whole new ventilation system with vents, heaters, and dampers to lowers temperatures in the summer and keep the heat in in the winter.
The Sales team, Project Engineers, Design Engineers, Moffitt Factory team, and support staff all work together to ensure that our solutions are designed to meet your building's requirements. They work together with the District Solutions Provider in Chicago to ensure our work meets your specifications. Whether it's a heavy-duty damper to help with the breezes through the windy city or adjusting a plumbing hook-up for a DeltaStream adiabatic cooling unit, they can help.
Facilities we serve
From forges and foundries to warehouses and distribution centers, we can help you lower temperatures and make your building cooler and more comfortable today. Below is a list of some of the industries we work with most often. This list includes projects in and around Chicago, as well as projects in the mid-west and the throughout the United States.
If you don't see your type of plant on this list, don't worry, we can still probably help you find a ventilation solution.
Heavy Commercial
Warehouses
Distribution Facilities
Data Centers
Assembly Areas
Farming & Agriculture
Food & Feed
Light - Mid Industrial
Melt Shops
Factories
Pulp & Paper Mills
Chemical Processing
Recycling
Extrusion
Heavy Industrial
Steel Mills
Glass Plants
Forges
Foundries
Power Plants
Ventilation Design
At Moffitt we design ventilation solutions for all types of facilities. Whether you're looking for spot-cooling fans or a full natural ventilation solution, Moffitt can help.
There's two ways we can help you find a ventilation solution.
Tell us what kind of ventilation solution you need, and we'll get it for you. For instance, if you know you need an UpStream exhaust fan to cool your work area, we'll process your order right away.
We can help you determine what you need based on your facility and your goals. For example, we can help you decide between a high-volume low speed MegaStream fan and a DeltaStream adiabatic cooling unit. We can also show you where the units should be located for maximum efficiency.
Our team of ventilation experts will help you review all your options and find the best one for your building, your budget, and your schedule. Sometimes we can help you see what you need right away, other times our team will create a full Computational Fluid Dynamics (CFD) model to find the perfect ventilation solution. By creating airflow modeling we can look at the results each potential solution would provide. This is a powerful tool that provides answers before any equipment is purchased.
Chicago Area Project Profile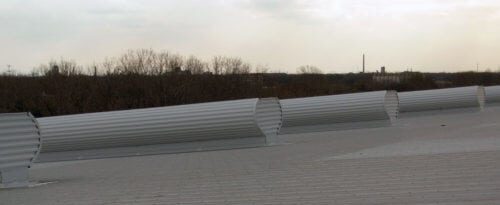 One of our favorite projects in Chicago at Finkl Steel (also known as A. Finkl & Sons), back in 2008. At this facility Moffitt utilized nine (9) MoffittVent natural ventilators to exhaust the warm air from the work floor of the melt shop.
You can read more about the project, located on the South Side of Chicago, in this A. Finkl & Sons project profile.
Your Ventilation Solution In The Chicago Area
At Moffitt we work hard to provide the best ventilation solution for your facility. Our team works together to help you get the best solution designed and installed as quickly as possible.
Email or call the Moffitt team today at (773) 207-4464 to schedule a site visit today! We can even do virtual site visits if you'd like. Let us know how we can help, and we'll set something up right away.
CONTACT MOFFITT IN CHICAGO, ILLINOIS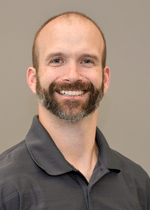 Natural Ventilation
MatrixVent low-profile ventilators
MoffittVent gravity ventilators
TriadVent flap ventilators
RidgePac ridge ventilators
GreenRoo turbine ventilators
Econovent ventilators
SG Vent Ventilators
Natural Daylighting
LightStream hinged window
jalousie window vents
Natural Heat & Smoke Control
Firex automatic smoke vents
Natural Cooling
DeltaStream Adiabatic Cooling
Natural Heat & Smoke Control
Natural Intake
EcoStream wall louvers
EcoStream 90 wall louvers
Powered Ventilation
PressureStream building fans
UpStream workspace fans
GulfStream spot cooling fans
MegaStream HVLS fans
Tube Axial fans
DeltaStream adiabatic cooling
Powered Heating
Make-Up Air Units
Direct Fired Heaters
Indirect Fired Heaters
System Solutions
Natural Ventilation
Hybrid Ventilation
Power Ventilation