Industrial Ventilation Solutions Near You
Ventilation Solutions Near You
Moffitt provides industrial ventilation solutions for maintenance managers, plant supervisors, and metal erectors across North America. From coast to coast, north to south, Moffitt has ventilation solutions near you. Our Team covers the U.S. from their field offices around the nation. As a result, Moffitt whether you're in the North, South, or West, Moffitt has you covered.
North Region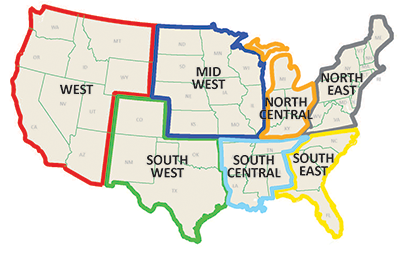 First, Moffitt Corporation has its roots in the Northern U.S. The company was originally founded just outside of Pittsburgh, Pennsylvania in 1961. Since then, Moffitt has grown but our commitment to the Pittsburgh area and our customers in the Northeast and Midwest has remained the same. Additionally, our original production facility is still located in this area, in Le Roy, NY just outside of Buffalo.
Seth Nickol is our North Region Sales Manager. Located in Cincinnati, Ohio Seth is centrally located to many of the large manufacturing centers in the Northeast. Stretching from the western border of Nebraska to the Atlantic Ocean this region encompasses the largest number of states. It seems like Seth is on the road most of the time. He routinely visits sites and meets with customers and partners throughout the area.
South Region
The South Region houses Moffitt's World Headquarters. Our ventilation design and sales operations are in Jacksonville Beach, Florida. John Moffitt, President of Moffitt Corporation, along with Blake Edgeworth, VP of Sales and Marketing work in this office. Our ventilation engineers and administrative personnel are here as well.
Mark Hannah is our Director of Sales and South Region Sales Manager. He lives and works in Gainesville, FL. A short drive away from Jacksonville Beach, Mark works closely with the home office. The South consists of Texas and everything to the east coast.
Lastly, the South Region also houses our newest factory. Moffitt West is near the Oklahoma / Texas border, in Denison, TX. Its central location allows it to better serve the Western U.S. and Mexico.
West Region
Opened just this year the West sales office is our newest. Gabe Cansler, our West Region Sales Manager, heads this office. We are making new contacts every day. One of the most exciting parts of Gabe's job is showing new customers that natural ventilation can work in even the hottest and most arid climates like the southwest. This is of course in addition to the dampest, cool climates like the Northwest, where it has been used for decades.
Everywhere in the Mountain and Pacific Time Zones, as well as Alaska and Hawaii are in the West region.
Local Field Offices
Our fantastic Local Field Offices support our Regional Sales Managers throughout the country. These Moffitt representatives know the best products for your region and can help you find the best ventilation solution for your plant. They are in contact with our Regional Sales Managers on a weekly basis. Furthermore, they know the Moffitt catalog inside and out. You can contact our sales managers to find the local rep in your area.
Moffitt International Offices
In addition to the United States, we also cover the rest of North America. We design natural ventilation systems for locations all over the globe and we manufacture and ship all over the world. Our home office handles most of our international and Mexico business. Blake Edgeworth, VP of Sales and Marketing, manages most of those projects. Our Field Office in Mexico represents Moffitt throughout Latin America and South America.
Ventilation Solutions Near You
In conclusion, Moffitt offers ventilation solutions near you no matter where you are in the world. Contact one of our team members today to see how Moffitt can help improve your plant's ventilation.