Hooded Roof Exhaust Fan, Versatile & Efficient
The High Performance Exhaust Fan
The Moffitt Hooded Roof Fan is the perfect for moderate pressure environments. These fans are powerful, reliable, and highly customizable to best suit your building's needs. With Moffitt Corporation you don't have to settle for a fan that is "close enough". We strive to find you the ideal ventilation solution for your facility. Get the hooded exhaust fan that meets your criteria. We can accommodate a variety of factors such as shape and size, horsepower, body material, construction type and more to best suit your building.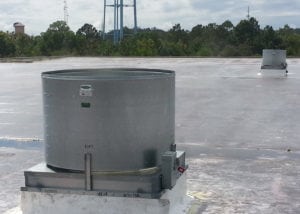 Fan sizes range from the standard 12″ diameter blades all the way up to large fan blades with a diameter of 120″. In some cases, Moffitt can even meet specific dimension requests to better fit into certain spaces. Fan housings are available in aluminum, steel, and stainless steel. A steel housing means the fan is better able to stand up to heavy wear and tear while a aluminum body allows the fan to operate in more hostile environments.
Aluminum or fiberglass fan blades, with cast aluminum hubs, are the center of each fan. Each unit has a galvanized stainless steel interior. Each fan blade is statically and dynamically balanced. This ensures smooth, long-lasting operation.
The industrial hooded roof exhaust fan is available in both Direct Drive and Belt Drive models. Belt drive models keep the motor out of the way of the air flow, which is especially useful in high heat environments. A direct drive motor, however, sits right by the fan blade itself. This eliminates the need for the belt, which is often susceptible to breakage.
Hooded Roof Exhaust Fan Details
Roof curbs ensure the fan fits proper. Additionally, a roof curb will more effectively channel water away from the opening. Roof curbs are used to mount the fans on any pitch or slope imaginable. The fans' discharge is directed throughout the building using supply duct extensions, and 2, 3, and 4-way airflow extensions. This duct exhaust directs the air throughout the building.
The hooded roof exhaust fan is available with different horsepower options and CFM capacities ranging from 5,000 to 100,000+. Adapt your fan to ensure the proper amount of air is moving through the facility. Improve ventilation system efficiency, and cut down on power usage, when you choose right powered fan.
Additional environmental customization options are also available. Add sound dampers to meet decibel level requirements. You can also add bird screens to keep wildlife out and hood tie downs to keep the equipment in place. Choose hood roof exhaust fans certified to stand up to 100 mph winds in high activity storm areas.
Finally, our Hooded Roof Exhaust Fan offers you flexibility unmatched anywhere else. We can customize your roof fan to better meet your particular needs. You don't even have to know exactly what you need either. Our team of experts will help you find the fan that best meets your building specifications.