The MoffittVent is the most effective and efficient natural ventilation device on the market today. This large capacity ventilator exhausts large volumes of warm air without letting any rain in.  Wind direction and velocity do not negatively affect performance. In fact, higher winds can improve ventilation in many situations. The standard model can withstand winds up to 130 MPH, but we can modify it to withstand even higher wind speeds.
Our team custom engineers each MoffittVent to meet local building codes, specific requirements, and customer request. This includes adaptations to meet high snow loads, corrosive environments, special color coatings to match the building architecture, and more. If an industrial building needs a MoffittVent, our team will design one for it.
Moffitt has custom designed, manufactured, and installed the MoffittVent natural ventilator for over 60 years.
Standard Features
Throat sizes: 24" – 180"
Lengths: 10' – 1000'+
Hot-Dip Galvanized Steel Frame
Galvalume sheeting with Mill Finish
Transverse baffles increase air flow through the unit
100% free area to face area ratio
Optional Features
Sheeting Options: Aluminum, Stainless Steel, Fiberglass
Sheeting Paint Options: Kynar® Exterior with Wash Coat Interior; Kynar® Interior and Exterior, other specialty coatings
Frame Options: Corrosion Resistant, Painted Frames, Stainless
Bird Screen
Damper: Manual, Motorized
Product Catalog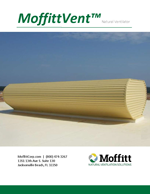 Product Testing and Certification
Airflow performance test tunnel
Weather tightness
Wind
Damper cycling
High Temperature
Product Mounting
The MoffittVent™ can be ridge, flat, single slope, or down slope mounted.