The DeltaStream is an adiabatic cooling unit that provides natural cooling and ventilation. The unit cools the air by decreasing the temperature of the fresh air introduced into the space.
First, the fan draws hot outside air across the damp desorption medium within the unit. The water in this medium evaporates and removes sensible energy from the air passing through it. This natural process can result in as much as a 30°F air temperature decrease. This ensures that fresh, cool air is consistently supplied to the facility in a cost-effective way. In essence the DeltaStream is a self-cleaning, ultra-hygienic, technologically advanced evaporative cooler.
The DeltaStream has very low operating costs and can be up to 7 times more efficient than conventional air conditioning. It is designed for commercial and industrial applications to cool outdoor air 10° to 30° F below ambient conditions. Each unit is capable of moving 16,800 CFM. Finally, a direct drive variable speed motor reduces maintenance while increasing efficiency. Create a better environment in your building with a Moffitt DeltaStream today.
Learn more about adiabatic cooling in our project profiles.
Standard Features
Construction: Mill-Finish Aluminum
Motor: Direct drive variable speed motors
Medium: High efficiency cellulose medium
Tubing: Polypropylene tubing
Curb: Included
Weight: 900 lbs. dry, 1100 lbs. wet (excluding curb)
Optional Features
Ducting & fan package
E.C. Motor fitted on system fan
Maintenance packages available
Automated controls
Building management system integration
Learn more about us on our LinkedIn page.
Product Catalog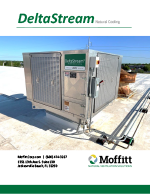 Product Testing and Certification
Computer Modeled, Factory Tested, & Field Tested
Product Mounting
Curb mounted via an integrated curb cap. Can be installed on the roof or at ground level.