Becoming a Moffitt Certified Installer (MCI)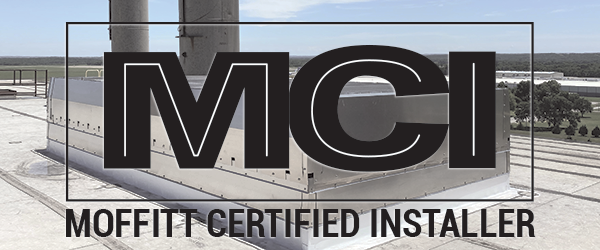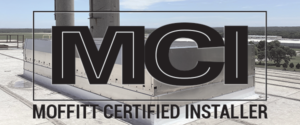 Are you a contractor, roofer, or installer looking to grow your business? Become a Moffitt Certified Installer (MCI) today and join the ventilation installation team. By signing-up as an MCI you'll be able to broaden your scope. This will allow you to offer new services to existing customers and acquire brand new clients as well. Moffitt is now accepting applications for MCI members throughout the United States.
A Little About Moffitt
Moffitt is a leading industrial ventilation company. We provide turn-key ventilation solutions throughout the United States. The team at Moffitt designs systems in our head office in Jacksonville Beach, FL, and manufacture equipment in our factories in Denison, Jacksonville, and more. We already have a robust installation team that services customers from coast to coast. But with recent growth, we now need some more help.
What Are the Benefits of Becoming a Moffitt Certified Installer?
To help us provide installation services throughout the United States, we rely on a network of pre-qualified subcontractors known as Moffitt Certified Installers. These installers receive training on installing these specialty ventilation products. They also receive support during the process and feedback from our engineers.
A Moffitt Certified Installer is the first call when a customer wants turn-key service in your area. When a customer purchases equipment from Moffitt we call you to take care of installation. That means that, in some cases, work will just fall into your lap.
How Do You Become a Moffitt Certified Installer?
Contact us today to see if you qualify to be an MCI. The first step is to fill out the MCI checklist. The checklist requires information such as.
Safety (EMR, Safety Plans, etc.)
Licensing (Jurisdictions, Type)
Experience (Past Project List)
Security (Insurance, Bonding)
Affiliation
If you qualify, then a member of our team will meet with you face-to-face to assess your business and see if you're a fit.
Moffitt Corporation
In conclusion, reach to us if you are interested in becoming a Moffitt Certified Installer. After six decades, Moffitt is still growing at a remarkable pace. We are expanding our engineering, manufacturing, sales, and installation teams year after year. This is an exciting time for qualified businesses and subcontractors to get in and enjoy the benefits of being Moffitt Certified Installer. Contact us today to start the process of working with one of the leading ventilation solutions providers in all North America.