Moffitt 60th – Natural Ventilation Installation
Moffitt has been providing natural ventilation installation for over 60 years. We know the challenges of installing specialty equipment like ventilators or louvers that some general contractors face. We also know how to make the process smoother. Whether this includes sharing detailed instructions, offering on-site supervision & consultation, or by providing full turn-key installation service, the Moffitt team can help customers get their new ventilation solutions installed the right way.
Moffitt Natural Ventilation Installation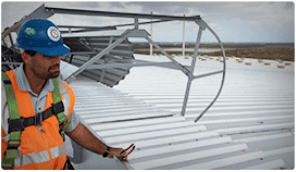 Moffitt started as a product and solution-based company, primarily selling large ventilators to heavy industrial facilities. While customers loved the Moffitt ventilators it quickly became clear that they needed help installing them. The complexity of some of the equipment necessitated an experienced contracting team. That is why Moffitt began to offer full ventilation solution services. This could include everything from helping a customer find a contractor to offering full turn-key service.
The Founding of Moffitt Mechanical
After years of project-based contracting, Moffitt Mechanical opened in 2005. The new company allowed Moffitt to better meet the increasing demand for ventilation contracting services. Unlike general contractors who install everything or HVAC companies that primarily handle mechanical ventilation, Moffitt Mechanical was founded to focus solely on natural ventilation solutions. This includes products such as roof ventilators, wall louvers, make-up air units, and more. Wherever a customer needed a ventilation solution installed Moffitt Mechanical was there to help.
With Moffitt Mechanical our team was able to utilize decades of experience installing equipment to bring turn-key services to our customers. This included a variety of industries and environments. Whether the project is new construction or retrofit, continuous production or a scheduled stoppage, high-heat industrial environments or commercial spaces, Moffitt is there to help. Not to mention that working at elevation comes naturally to the entire Moffitt crew.
Moffitt Certified Installers (MCI) for Ventilation
To expand our services nationwide, and ensure quality service on each project, Moffitt established the Moffitt Certified Installer (MCI) program in 2020. This program includes a network of prequalified contractors who know how to install Moffitt solutions. Contractors are prequalified based on their quality, professionalism, commitment to safety, and focus on customer service. Once qualified, but before the first subcontract is written, a Moffitt representative meets in-person with each subcontractor to approve their inclusion into the MCI network.
Each certified MCI partner receives technical training on Moffitt-specific products. They receive on-going support from Moffitt engineers throughout the duration of the project. In return, Moffitt can count on highly trained, local labor to address our customers' needs quickly and effectively. Working with local contractors allows Moffitt to have installation crews that know their territories, their local vendors, and their customers. These local relationships make an enormous difference during the installation process.
If a customer does not want to work with Moffitt for installation, we can also provide installation supervision as well. This includes a Moffitt team member working with the installation crew of your choosing. Our team also handles inspections and maintenance services to ensure old equipment continues to run like new.
Sixty years of Moffitt Natural Installation
Over the last sixty years the biggest advantage Moffitt has had is that everyone here works as one team. Moffitt maintains continuous communication between each department to ensure reliable, quality work. The design team and manufacturing crew work with the contractor to ensure the products will work with the customer's buildings. The whole team works to implement product modifications and solve installation issues as they arise. This total cooperation from start to finish provides the customer with a worry-free, turn-key ventilation solution that can only come from.