Preventing Condensation in Steel Coil Storage Areas
A modern ventilation system can prevent condensation from forming on stored steel coils. Not just cleaning or drying the moisture but preventing condensation in the steel coil storage area all together. Utilizing three different ventilation methods; natural ventilation, Pressure Gravity, and heated destratification, the building's conditions are made perfect. The right ventilation system creates an environmental spread between the dew point and the ambient temperature on and around the coils. It utilizes an automated computer control system to continuously monitor the temperature and humidity levels at the coils and keep the humidity and temperature levels consistent.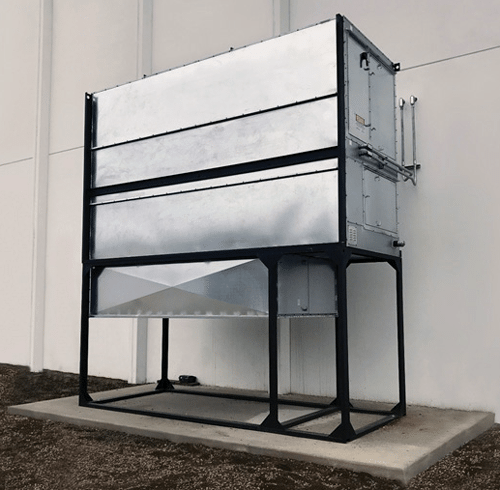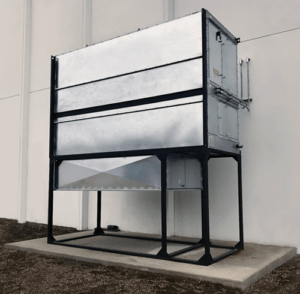 For instance, if at any time the humidity level exceeds a preset point, the control automatically shuts down the ventilation equipment and energizes the heating / destratification equipment. This procedure allows the floor-level temperature to rise several degrees above the dew point while also lowering the humidity level. This prevents condensation from forming on the steel coils.
A Heat and destratification unit, like the HeatStream, performs the dual purpose of preventing condensation on the coils and of heating the plant during wintry weather. The rotating action of the unit draws the plant process heat back down to the operating floor. This means that heat already existing in the building is recycled and re-purposed, avoiding the need for additional powered heating. Basically, the heat is free.
Pressure Gravity for Destratification
A Pressure Gravity System™ introduces clean, fresh air into the space at the work floor. This is ideal for hot, humid days. A natural ventilator, like a MatrixVent or TriadVent subsequently exhausts the hot, dirty air. A Pressure Gravity System, like the destratification system, puts the air where you want it, at the ground floor. The new fresh air produces a cooling breeze and, which in turn produces an evaporative cooling effect. This keeps the air movie and prevents excess moisture. This is a requirement for a coil storage area. Additionally, by moving the fans to the sidewall they require zero roof maintenance and less maintenance overall.
In conclusion, a state-of-the-art ventilation system, designed for your building's needs, is the key to less maintenance, lower energy bills, and proper coil storage.