Moffitt PPE Infographic
Moffitt requires Personal Protective Equipment (PPE) for each worker on a job site. At Moffitt PPE is vital to protecting workers from workplace injuries and illnesses. This handy infographic shows workers how they can protect themselves from those injuries and illnesses on the job site.
Moffitt is committed to work site safety. Our team knows that having the proper equipment is the first step to ensuring a safe work site. The Moffitt safety team gives new employees the following Moffitt PPE Guide to help them remember, and use, their gear.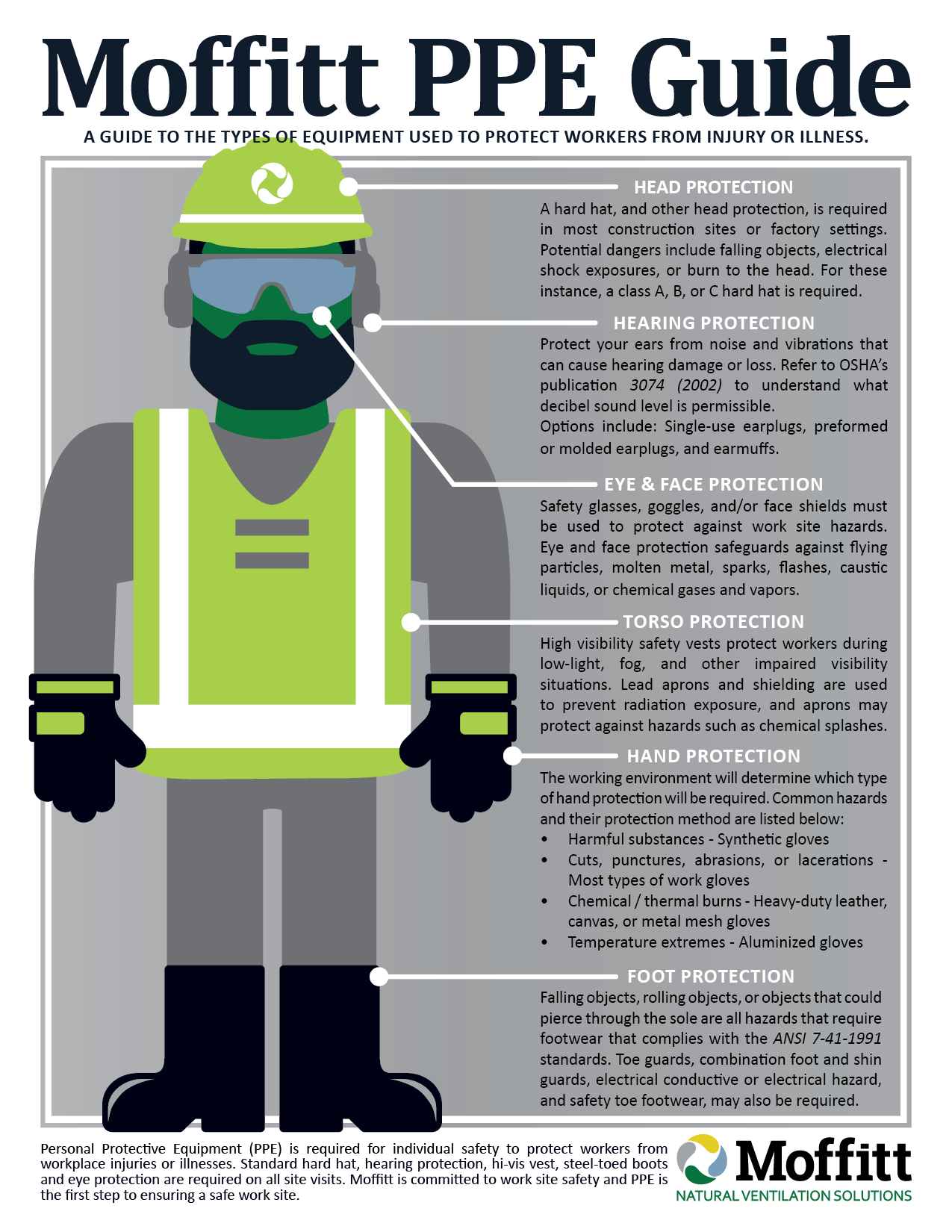 Moffitt Safety
By the nature of our business our team members are often on rooftops. Therefore, team member training is essential. Field staff, engineers, and salespeople all take PPE training. All team members must follow all procedures as well. For instance, Moffitt requires standard hard hats, hearing protection, hi-vis vests, steel-toed boots, and eye protection on all site visits.
In addition, we routinely test our equipment and review our procedures to make sure everything is working smoothly. We stay current on construction industry trends: safety wearables to prevent complacency.
Safety is always job one at Moffitt. We're always committed to a "Zero Accident, Zero Incident" job site. We have the customer feedback and the safety record to prove it. With over 60 years of experience in providing natural solutions you can be sure you're well cared for.
MCI Network & Moffitt PPE
Moffitt pre certifies all MCI network members. Our team reviews their safety records before work begins. Moffitt also provides training for product knowledge, installation instruction, and Moffitt PPE guidelines. In conclusion, each member of the MCI network also believes safety comes first.