PressureStream – Modular, Customizable Wall Fans
The PressureStream is a power ventilation system for warm air roof exhaust or cool air supply into a building. This modular, customizable fan is ideal for sidewall mounting for supply air. In this configuration, the PressureStream is the key component for any Pressure Gravity System®. Here are some of the features, uses, and benefits of the PressureStream.
Modern Propeller Blades
The PressureStream features modern, fiber-reinforced thermoplastic propeller blades with sophisticated airfoil shaped designs. A direct-drive motor helps you avoid the hassle of fan belts. The most common fan utilizes a 3 HP, 1160 RPM motor capable of 20,000 CFM. We test each unit for airflow performance in accordance with parameters of ANSI / AMCA 210-99 (ISO 5801, DIN 24163). These features ensure that the unit can function at maximum efficiency for an extended duration.
Durable and Strong Propeller Hubs & Housing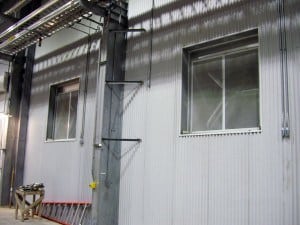 In addition, the standard propeller hubs of the PressureStream use high-strength die-cast aluminum. The housings are made with high-quality G90 galvanized steel. These give the equipment its durability and strength. These units will serve your industrial exhaust and power ventilation needs for many years to come.
Product Mounting
Lastly, the intake PressureStream is mounted directly into the sidewall. As it uses the exhaust side of the fan, air can travel a distance equal to 5 times the diameter of the fan. This ensures the cool, clean supply air flows directly into the working environment. In the end, this results in a cooler and more comfortable space for employees or factory workers.
The Moffitt PressureStream
In conclusion, our team at Moffitt has power ventilation fans available in a wide variety of sizes and motor horsepower configurations. We customize our PressureStream fans to meet your specific commercial or industrial application. Contact us today to learn more about our PressureStream unit and other wall exhaust fan equipment. No matter your power ventilation needs, Moffitt has you covered.