Top 5 Aerial Lift Safety Tips for the Roof
Aerial lift operations are an integral part of any rooftop contracting or maintenance work. Aerial lift equipment like boom lifts and scissor lifts, require preparation and caution to ensure safe and successful operation. As experienced ventilation contractors, the team at Moffitt knows a thing or two about safely working with aerial lifts. Below are the top five aerial lift safety tips to help ensure safe practices for using lifts and lift related equipment.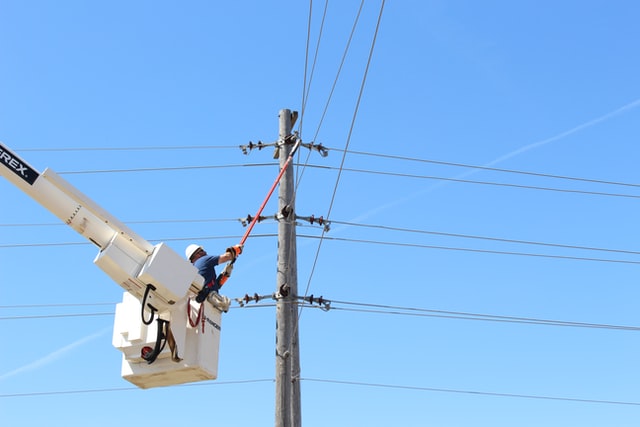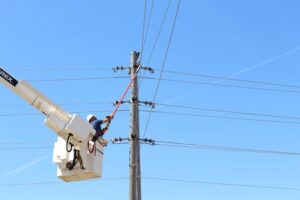 An aerial lift, also known as an aerial work platform (AWP), elevating work platform (EWP), or mobile elevating work platform (MEWP), is any convenience used to provide temporary access for people or equipment to areas otherwise inaccessible by height.
Individual types of lift devices include the "cherry picker", the "scissor lift", or a modular lift but all follow the same principle and require the same safety precautions.
It is imperative that each operator receives specific training for any aerial lift. This includes specific training on the make/model of equipment that he or she will be using. Equipment manufacturer manuals, boom lift rental company classes, and any relevant Job Hazard Analysis sheets are all necessary to ensure throughout training. Furthermore, all operators shall carry current Aerial Access Cards that show they are certified and professionally trained to operate specific equipment.
Top 5 Aerial Lift Safety Tips
Know what's overhead
Make sure the lift equipment is stable
Be mindful of proximity to power lines
Wear a full body harness with a proper tie-off
Never move or drive a lift with the platform extended
Know the Hazards of an Aerial Lift
Many rooftop projects in industrial facilities can be particularly hazardous about lifting operations. For instance, steel mills utilize overhead cranes to move products such as steel coils. When operating in any area that uses an overhead crane, it is vital that the team work closely with the crane operators. This ensures the crane is locked-out and that there are no collisions with the aerial lift. This may seem obvious but recalling the five hazardous attitudes that compromise workplace safety reminds us that nothing can be taken for granted.
Another indoor hazard is the energized crane rail that supplies power to operate the overhead crane. These power supplies are typically 480V and would result in a disaster if accidentally contacted. It is vital that the team makes sure that these power supplies are locked-out before operating any aerial lift.
Overhead power hazards are also a concern outside. When working outdoors, pay attention to your proximity to overhead electrical conductors. Reference the OSHA materials for guidelines regarding the minimum safe distance. Also, disconnect the power and lock out devices when possible.
Certain power lines, including power transmission lines, operate at extremely high voltages and may have special rules for working in proximity to them. Know these rules and live by them. Keep in mind, you do not have to physically contact high voltage power lines to generate an arc and risk electrocution. Please keep your distance and know your Aerial Lift Safety Tips.
Staying Safe on the Roof
Once the area above the lift has become approved the next step is to look down. The operator must make sure that the ground below the lift is stable before using the equipment. He or she must be on the lookout for unstable or shifting soil. This could lead to a lift losing its balance when extended. Make sure that any stabilization components are properly in place before extending the lift. And of course, never move or drive a lift with the platform extended.
Stay Safe with a Safe Ventilation Contractor. Call Moffitt for an inspection and review your ventilation equipment today.