Become a Ventilation Expert with a Lunch & Learn Seminar
Discover the benefits of Natural Ventilation without leaving the office. A Moffitt Lunch & Learn seminar gives you the chance to learn from the industrial ventilation experts that have been doing it for over 50 years.
Everything You Need to Know About Natural Ventilation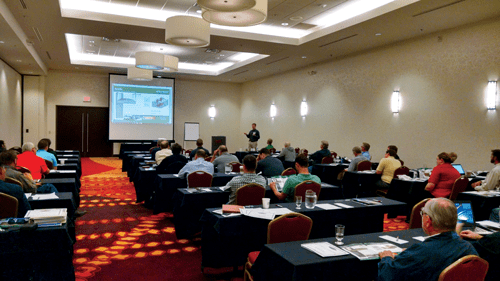 Our Lunch & Learn seminars will help you see ventilation design in a whole new way. We've seen employees with decades of experience in awe of how simple and effective natural ventilation can be. Whether you've been at it a while or you're just out of college, we guarantee that you'll discover there is more to it than just up-blast exhaust fans.
We've held these seminars at some of the biggest engineering firms in the country as well as some of the smaller groups too. Whether you have twenty people attending or two, we can arrange a session. In-house engineering teams and even planning committees can take advantage of these seminars as well.
Become a Natural Ventilation Expert
For decades we have been doing these sessions around the East Coast, the South, and the Mid-West. We're very happy to announce that Lunch & Learn seminars are now available to engineers in the west. From Colorado to California, if you want to learn more about natural ventilation, ask us to sign you up today.
Canadian and international firms can sign-up for remote Lunch & Learn seminars as well. We'll present from our offices in Jacksonville Beach, Florida to you anywhere in the world via teleconference. You might need to provide the "Lunch" yourself, but we'll still bring the "Learn".
Each seminar covers the everything you need to know about natural ventilation. This includes the principles, the design methods, and even the math behind the process. We'll also display an overview of the latest gravity ventilation products on the market. Further topics include more information about Moffitt Corporation, our manufacturing and installation capabilities, and examples of past jobs that have seen success with these techniques.
This program is designed for engineers and can be modified to fit your experience level or areas of expertise. Each seminar lasts about an hour and are scheduled at your convenience. We'll even do breakfast.
About a Moffitt Lunch & Learn
Natural Ventilation has been the backbone of our company since 1961. Time after time we see the impact it can have on a building's temperature and air conditions. Customers are also happy when they find out the long-term maintenance and operating costs as well.
Power plants, steel mills, smelters, forges, chemical plants, and paper plants can all take advantage of natural benefits, and we love showing people how it can lead to more effective and efficient ventilation. Give us a call to schedule a Lunch & Learn session at your office today.