Ventilation Near Me
Moffitt provides ventilation solutions for commercial and industrial facilities throughout North America. From north to south, coast to coast, Moffitt provides ventilation solutions for your state. Our Team covers the U.S. from their district offices in the U.S. and Mexico. So, whether you're in the Northeast or the Southwest, our team is nearby
Northeast District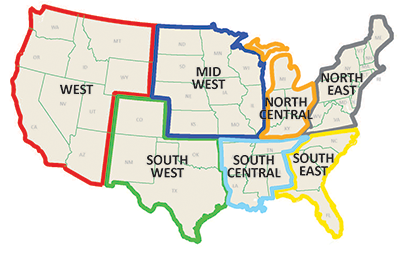 Moffitt was founded just outside of Pittsburgh, Pennsylvania in the early 1960's. 1961. For that reason, we have our roots in the Northeast.
District Solutions Provider (DSP) Kevin Mihalik covers the Northeast. Located in Philadelphia, Kevin works with facilities from Virginia to Maine. He has experience providing the ventilation and heating solutions customers in this part of the country need.
Southeast District
The Southeast his Moffitt's HQ. We have been based in Jacksonville, Florida since the early 1980s. Our ventilation design and sales operations are all based in this district.
SE DSP Shawn Sausville is also based in Jacksonville. A former Project Engineer, Shawn knows the range of solutions that Moffitt can offer its customers. Shawn regularly travels to Georgia and the Carolinas to meet with new customers and keep an eye on his current customers' installation projects.
North Central District
Moving back north is the North Central sales region. This district covers Kentucky, Ohio, Michigan, and Indiana. As the manufacturing hub of the U.S. the Moffitt team has a lot of customers and partners in this area. We also have two Moffitt team members in this area. Both North Central DSP Jordan Prosser and National Sales Manager Seth Nickol are located in Ohio. From Cleveland and Cincinatti respectively, they have the state and the district well covered.
Midwest District
Stretching from the Great Lakes to the Great Plains is our Midwest district. District Solutions Provider John Balthazor oversees this region from his home in Kansas City. A born and raised Midwesterner, John knows the needs of facilities in factories in this District. He regularly meets with engineering firms in the city, agricultural customers in the rural areas, and everyone else in between.
Sout Central
While we call it South Central, this district is firmly "The South". Kyle Elkins, the South-Central DSP is regularly on the road traveling throughout Mississippi, Tennessee, Alabama, and Louisiana. To Kyle, the contractors, manufacturers, and laborers of this district are like his family.
Southwest Region
In addition to being home to some of our biggest partners, the Southwest region is also home to our main manufacturing plant. Moffitt West is located near the Oklahoma / Texas border, in Denison, Texas. It is centrally located to allow for easy product deliveries throughout the U.S. and Mexico. A short drive south to the Dallas / Fort Worth area is where you will find the Southwest DSP, Ashley Klasnich. Ashley travels as far north as Colorado and as far south as the Texas border to regularly meet with her customers.
West
The West region stretches all the way up to the Canadian border of Washington, Idaho, and Montana. Additionally, it also reaches to Southern California and Arizona, stopping at the Mexico border.
Mexico
On the other side of the border is our newest district. Marcelo Cisneros is our Mexico District Solutions Provider. He provides natural ventilation solutions, or "Soluciones de Ventilación Natural" for the entire country. Marcelo also manages our new Moffitt Mexico offices which are growing every day. Stay tuned to our website, as well as our Spanish language site, Moffitt.mx for further updates on this district.
Worldwide
Of course, Moffitt also provides ventilation solutions for the rest of the world as well. Mark Hannah, VP of Sales & Marketing, works with all of our international customers. We provide industrial ventilation solutions throughout the world, ensuring people all over the globe can benefit from natural ventilation solutions.
Ventilation Near Me
In conclusion, Moffitt offers ventilation solutions near you no matter where you are in the world. Coast to coast and around the world, Moffitt is near you. Contact our team today to see how Moffitt can help you create a better environment in your plant today.