What Are the Advantages of Industrial Wall Louvers?
The 90˚ EcoStream wall louver's full-opening blades provide maximum airflow while being strong enough to stand up to any industrial application. Aside from the extreme durability, wall louvers are installed onto buildings for a flush and seamless look. Ensuring they do their job without getting in the way. Wall louvers encourage the flow of natural air within a structure from the side wall. When the louvers are paired with a natural ventilator, they become part of a complete natural ventilation system.
How Do They Compare to Commercial Wall Louvers?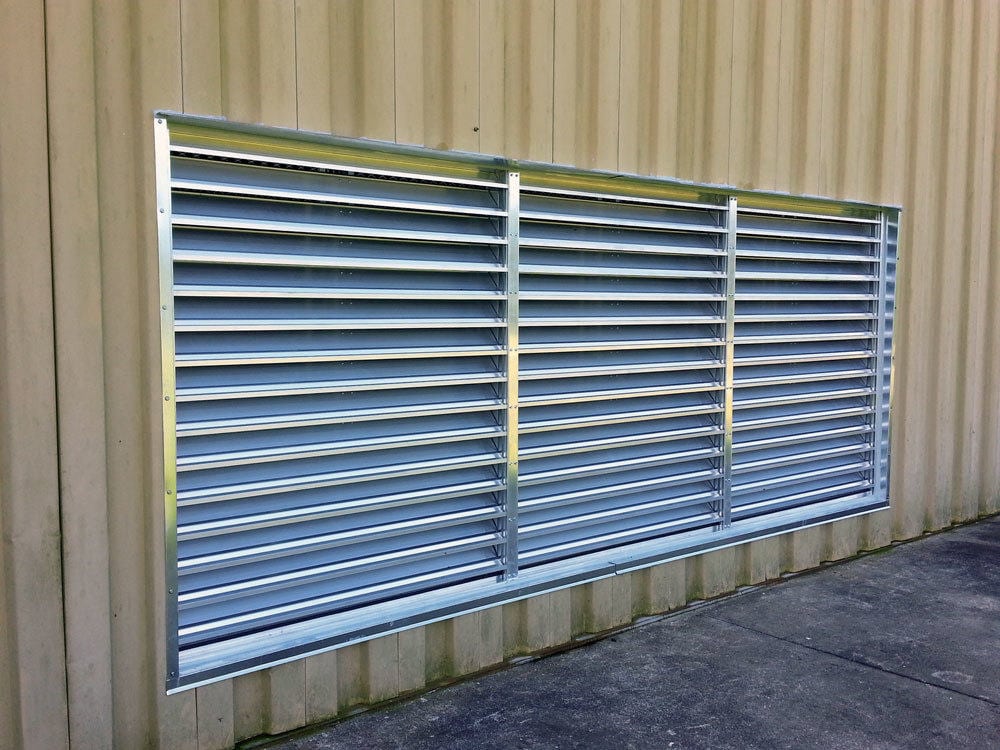 The durability of industrial louvers is incomparable to that of commercial louvers. They are often larger, made of unbending, non-corrosive stainless steel, use heavy-duty gears, chains, and cranks to withstand breakages, and work together create one elongated section of louvers. The design team at Moffitt Corporation is elevating the standards for wall louvers through prevailing engineering and innovative equipment.
Which Material Will Work Best for Different Applications?
Steel mills, glass plants, foundries, forges, and power plants are the best locations for industrial louver installation. The EcoStream 90˚ wall louvers are optimum for these environments because their durability ensures they stand up to everyday wear and tear, high heat, and impacts found in industrial settings.
Industrial louvers are available in several unusual types of materials.
Stainless Steel – Most durable option. It can hold up to extremely hot temperatures while maintaining its durability. Minimal maintenance is required over its long-life expectancy. Also good for hygienic applications. Usually the heaviest option, and sometimes more expensive as a result.
Aluminum – The aluminum wall louver is lower in cost, weight and easier to maintain. Also, it doesn't rust or corrode. Not as durable as stainless steel but still suitable for most environments.
Galvanized Steel – Steel with a coat of zinc for corrosion resistance and extra durability. Stronger than aluminum but will eventually rust.
Moffitt Wall Louvers
Moffitt offers advantages that surpass the competition starting with their 90˚ angle options that allow the highest airflow in buildings that don't require substantial weather protection. For those that do, 30˚ fixed blades are available as an option and still well manageable from the interior. Releasing the warm air out and allowing cool, fresh air in with EcoStream wall louvers.
Moffitt & Industrial Louvers
Our louvers are designed for industrial use to ensure they can withstand even the harshest of conditions. We have been working for over 55 years to create the best products for our customers and to raise the standards for natural ventilation in the industry continually. Our design team will always develop innovative products for our current and potential clients according to their applications. Call us today at 1 (800) 474-3267 for more information.