CFD Analysis for Buildings
Computational Fluid Dynamics or CFD Analysis for Buildings will let you see your facility in a whole new way. You'll see where the warm air gathers and where it most effectively exhausts. Eliminate the guesswork of putting exhaust fans where you think the warm air goes, with CFD analysis.
Computerized thermal imaging uses 3D models to show airflow through each door, window, and vent. It lets you see temperature changes in various locations and elevations within your building. Eliminate the guesswork of estimates with a CFD analysis for your building.
Find the Right Ventilation System for You with CFD Modeling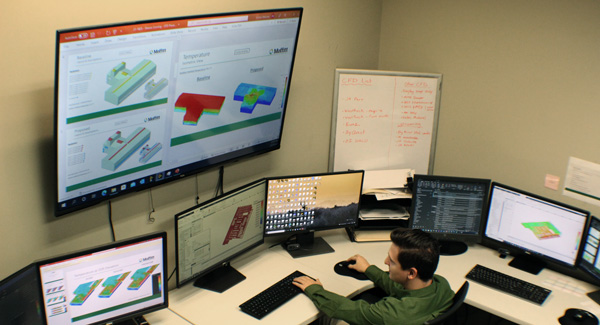 CFD modeling allows you to compare different models to find the best solution for you. Whether the issue is budget, personnel, or future planning, we can help you see all your options. One model may show a more affordable ventilation solution that can lower temperatures 20°, while a different, more robust model may lower temperatures as much as 30°. Furthermore, systems can be designed for installation over time, allowing for expansion as needed. Of course, the best part is that this is done before the first hole is cut and before you've spent any money on equipment. Having these choices means you don't have to settle for a system that won't work.
Many different facilities utilize CFD modeling. High heat facilities like forges, foundries, smelters, and power plants use CFD analysis regularly. Now, however, additional industries are discovering the benefits of ventilation designed with thermal imaging. Facilities such as paper mills, chemical plants, and data centers are discovering the power of CFD modeling.
Whether it's reaching temperature goals for operations or to improve worker retention, a ventilation system designed using CFD modeling can make an enormous difference.
Moffitt and CFD Analysis for Buildings
Moffitt has been designing industrial ventilation systems for over 60 years. Technology has changed significantly over the last six decades, and as a result, we've changed too. CFD modeling, using programs like Ansys Discover, along with modeling programs like SolidWorks and AutoCad, allow for state-of-the-art ventilation design.
Our dedicated CFD Engineers use this software to design bespoke models for our customers' buildings. We work with you to develop the best possible models. We look at building plans and google earth photos, as well as study local environmental conditions and industry temperature readings. Additionally, we can also visit your plant to get the most accurate info. We will discuss your problem areas, take temperature readings, or do a drone fly-over to get the best idea of what your new ventilation solution should look like.
Over the last decade Moffitt's use of CFD modeling has exploded. In the past each model took a lot of time and resources to complete. As a result, they were only utilized for large or complex facilities. Now, with modern technology, staff, and experience, we can complete models much faster. Additionally, we can make more detailed models that more accurately illustrate your specific building. Furthermore, our pricing scale means that we can develop a model that meets your budget.
You can learn more and get started on your CFD model today by visiting our CFD page today. We look forward to helping you design a better environment today.