Finding the Industrial Fan for Your Building
At Moffitt, we streamline the industrial fan selection process. By dividing our industrial fan line into four categories, we make it easier to find the right fan for your building. For instance, we have "Fans for the Work Station" that target a specific area where a person may be standing throughout the day. These are often free-standing or affixed to a column. A person cooler fan like a GulfStream can be particularly helpful in a loading area or assembly spot.  Alternatively, "Fans for the Work Space" are designed for enclosed areas within the building, like a paint room, finishing room, or kitchen. You will generally find these on a section of the roof on high on the sidewall.
Finally, we have fans for the building. These are the fans that are designed to move air throughout the entire building. Often larger and more durable, building fans are one of our key product groups at Moffitt. Read on to learn more.
Industrial Fans for the Building
A fan for the building is usually more powerful and larger than fans for a workspace or work area. Some have motors capable of moving 100,000 CFM of air or more. Additionally, the fan blade may be as large as 120″. These stronger, large fans ensure that even the largest of buildings can have proper ventilation. Furthermore, these fans are designed to withstand the toughest industrial conditions. The housing is generally made of galvanized steel while the fan blade propeller will be made of aluminum or fiberglass. This makes for a much stronger package the the smaller scale fans. 
An industrial fan for the building will be one of two types. Fans for exhaust and fans for intake.
Fans for Exhaust
Exhaust fans are most often located on the roof. These fans are designed to extract the hot air that collects at the ceiling out. When mounted close to the source of the heat a fan can move a lot of air from the buildings. Hooded roof fans come in a variety of models, with a long list of features to best meet the needs of any building. A ventilation solution will often utilize several fans to ensure the air moves at a steady rate throughout the building.
Industrial Fan for Intake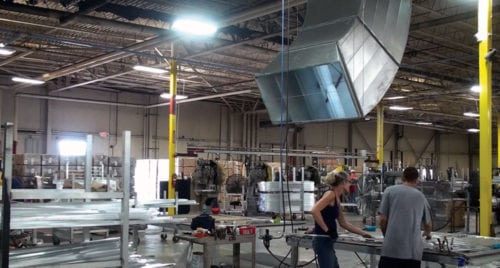 Fans can also be used for intake air. Intake air, or supply air, brings fresh air into the building. This make-up air then pushes the hot, dirty air towards the exhaust fans. This creates a powerful cycle of air-movement that increases airflow throughout the building.
In addition to being mounted on the roof, they are also often mounted on the walls. Wall fans work great for bringing in cooler, outside air near the ground. These work like a wall louver but with more power. Roof top intake fans are ideal for reaching spaces away from the walls, further in the building. These units are often fitted with duct drops to introduce the fresh air as close to the workers as possible. Roof mounted or wall mounted, an intake industrial fan can make a huge impact.
Moffitt Industrial Fan Powered Ventilation
Moffitt can help you determine which fan is right for your building. We can help you find if you need newer exhaust fans, more sidewall fans for intake air, or a combination that utilizes natural ventilators and fans for your building. Contact us today to find your industrial fan solution.