Model AF Air Circulator Fans circulate air to provide a steady breeze of air to floor personnel in a hot work area. Also known as "Airwave" fans , users can mount AF Dock Fans in a number of different configurations to best meet their needs. These high-velocity work for product cooling, drying, condensation removal and more. Additionally they are often called "man-cooler" or "spot-cooler" fans because they focus a high-velocity jet of air directly on the personnel. AF High-Velocity Air Circulator Fans are designed to project air streams air up to 200 feet. This provides better air distribution over congested work areas like assembly lines or shipping docks.
Standard Features
Motor Drive: Direct
Housing: Attractive deep spun 14-gauge steel housing.
Guards: 1/2" mesh galvanized steel screen over the inlet and exhaust sides
Mounting: Motor mounting bracket designed to fit most standard off the shelf motors
Power: Power cord furnished (single phase units only)
Coating: Fan housing coated with a thermally fused powered polyurethane black finish
Warranty: 2-year warranty
Mounting Configuration Models
AF-CS – Chain Suspended – Hangs from the ceiling by a chain
AF-YM – Yoke Mounted – Attaches to an overhead beam
AF-CW – Column or Wall Mounted – Attaches to a building column or wall
AF-DF – Dock Fan – Special wall mounted designed to force warm air out of a trailer
AF-PM – Pedestal Fan – Stands on a movable pedestal
Product Catalog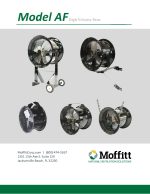 Product Testing and Certification
Airflow performance modeled.
Product Mounting
Model AF air circulating dock fans are wall, chain, yoke, pedestal, or column mounted with easy positioning adjustment.