Moffitt West Expansion – Getting Started
In late June, Moffitt West officially began work on its new building addition. The Moffitt West expansion increases the total space at the Denison, TX plant almost 70%. It adds room for additional staff, increased production, and improved shipping and warehousing.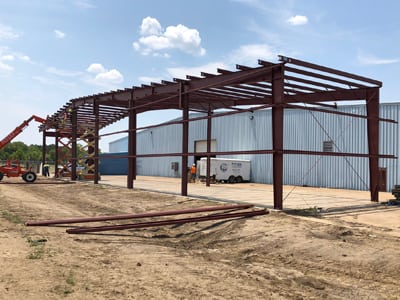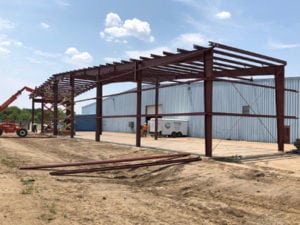 The main part of this addition is the 10,000 ft2 expansion of the workshop floor. This new construction increases the current work area by 50% to the office building, ensuring that all the employees have a comfortable, yet productive place to work.
Furthermore, this expansion also allows for improvements to be made to the plant's ventilation system. Adiabatic units and dual-flap ventilators will be installed to naturally cool the work floor. The planned ventilation system will lower temperatures in the building, especially during the 100°+ Texas summers.
Construction Plans
Construction will add 3,500 ft2 of offices to the front of the building as well. This new area creates more space for the ever-growing management and product engineering staff, who were happy to learn about the expansion. The new facilities will include a new conference room, an improved office area, a product showroom, and a break room. The crew will dismantle the old office space. It will then change back into workspace, adding even more work area to the factory.
Similarly, the expansion will add Moffitt ventilation products to the break room as well. This includes a natural casement ventilator and eight jalousie window vents.
The Moffitt West expansion kicked off with trenching for new drainage in late June and steel delivery in early July. Erection officially began on July 23rd. Factory frame out was almost complete by the end of the first week. Completion of this section, and erection on the office section are next. The schedule targets late November for completion. Subsequently, the official building dedication will follow in December.
About Moffitt West
Moffitt West has been a part of Moffitt since 2016. Formerly known as Western Canwell, Moffitt West manufactures a variety of industrial ventilation products including the Moffitt Ridgepac, and MatrixVent ventilators. The Moffitt Firex™ smoke exhaust vent is one of our most popular products.