Turn-Key Ventilation Contracting with Moffitt
Moffitt provides facilitates with a turn-key ventilation contracting services. As a full-service ventilation contractor, we perform a variety of installation services. A specialty ventilation contractor that focuses on the installation of industrial ventilation systems, Moffitt can do it all. We maintain mechanical licenses throughout the country and have performed jobs in most states. Additionally, the engineering, logistical, and labor challenges of working in congested urban environments and remote, country locations are just second nature to us.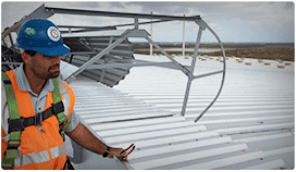 Moffitt is comfortable with both small retrofits and large new construction projects. We're just as happy to help install one natural ventilator as we are to install a complete ventilation system for a Power Plant. This experience gives us the skill and flexibility to be ready for whatever job comes our way. We strive to make the installation process fit with your construction schedule. Furthermore, we ensure retrofits experience a minimal impact to production, often needing no work stoppage to complete a job.
Moffitt provides the following ventilation contracting services.
Installation

Natural Ventilation Systems (MoffittVent ventilators, Wall Louvers
Powered Ventilation (Roof fans & Wall fans)
Pressure Gravity Systems (Gravity exhaust vents with supply fans)
Louvered Intake & Powered Exhaust (Roof or wall exhaust fans with intake louvers)

Commissioning and Supervision
Test and balance system start-up and natural ventilation (Inspection & Evaluation)
Site Survey of existing systems for upgrades and repairs
Ventilation Contracting, Design & Fabrication
In addition to experienced ventilation contracting, Moffitt can also provide you with complete turn-key service. We have the capability to design industrial ventilation, heating, and air conditioning systems in-house, utilizing Computerized Fluid Dynamic (CFD) Modeling. Additionally, we can provide professionally engineered stamped designs for any state.
Of course, the systems are nothing without having the actual equipment to install. From our manufacturing facility in Denison, TX we can provide instantaneous support for materials and custom fabrication. This cooperation helps clients save money, improves internal communication, and allows us to offer the best customer service possible.
In conclusion, our team at Moffitt has over 60 years of experience in the Industrial Marketplace. Our operations team is experienced, friendly, and passionate about our Industrial Ventilation Systems. Their first order of business is developing and maintaining a safe work plan for each project, that also provides quality installation in compliance with your project schedule.
Finally, as every project is supported by our excellent customer service staff, you can rest easy knowing your job is safe. The team at Moffitt will work together with you to make sure you get the ventilation solution your facility needs. Contact us today to how Moffitt can be your Ventilation Contractor.