2018 Year in Review
After more than 55 years in business, many companies become stagnant by continuing to do what works and failing to innovate. Moffitt however, continues to see substantial growth half-way through its fifth decade. Significant investments in manufacturing upgrades, the addition of a new commercial product line, and big changes to the team, have all contributed to another banner year. All told, Moffitt had a very eventful 2018.
Manufacturing Upgrades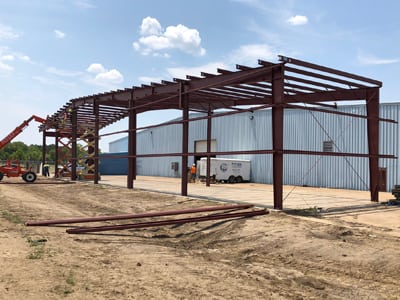 The biggest story in Moffitt manufacturing in 2018 was the expansion of Moffitt West. In late June, construction began on an addition to the Moffitt West factory that would increase total building space by nearly 70%. A 10,000 ft.2 expansion of the workshop floor increases the current work area by 50%. The building also gained an additional 3,500 ft.2 of office space. The expanded floor space for will allow for increased production, increased staff, and improved shipping and warehousing.
Furthermore, as Moffitt is always pursuing Natural Solutions, this expansion seemed like the perfect time to upgrade the plant's ventilation system. Natural adiabatic units and dual-flap ventilators were installed to naturally cool the work floor. The planned ventilation system will lower temperatures in the building, especially during the 100˚+ Texas summers. The break room is also fitted with Moffitt equipment including a natural casement ventilator and eight (8) jalousie window vents.
Of course, this expanded capacity would be meaningless if the operations didn't also get the upgrade. In 2018, Moffitt implemented the E2 Shop Enterprise Resource Software to help the factory track inventory and resources throughout the production process. Its use will improve inventory management, purchasing and project scheduling. It will improve product consistency and overall quality as well. Curtis Sorensen, Moffitt West's new Manufacturing Engineer, shepherded in this new system. Curtis has joined the team specifically to ensure Moffitt delivers the best natural ventilation solutions on the market.
Commercial Product Line Expansion
In 2018, Moffitt added a whole new group of products with the glazed ventilation line. Unlike ventilators, wall louvers, and exhaust fans that primarily target industrial customers, these products target the commercial marketplace. The jalousie window has so far been the biggest hit, but the natural casement ventilators have also been popular.
The commercial ventilation products are usually sold to commercial buildings like offices, hotels, universities, car dealerships, municipal buildings, and more. Last year's sales exceeded beyond expectations, and just a week into 2019, sales look to be even better.
Personnel Changes
Last year saw several promotions and lots of additions that are sure to have an enormous impact on Moffitt. Mike Berry joined the team in early spring. As the Director of Engineering and Operations, Mike connects product development with engineering. In this new role, Mike has been instrumental in improving the entire organization's workflow and to improve production quality.
Additionally, long time employee Mark Hannah, previously the Director of Sales Manager has been promoted to Director of Sales and Marketing.
2019 and Beyond
It may be a cliché but, 2019 looks to be Moffitt's biggest and best year yet. With expanded and improved production, new products, manufacturing upgrades, and a fully staffed team, the sky is the limit. This steady growth is just one of the reasons why Moffitt is Ventilation's Natural Solution.