Computational Fluid Dynamics for Ventilation
A picture is worth a thousand calculations. That is why Computational Fluid Dynamics (or CFD) modeling is so useful for ventilation. This tool creates vivid images that can show a new ventilation system in motion. A step beyond a static photo, they show how air actually moves in your facility. These models illustrate temperature changes, air velocity, humidity levels, wind speed, and even pressure issues. This helps customers find the optimal solution quicker, delivering the best bang for their buck.
Moffitt Computational Fluid Dynamics Technology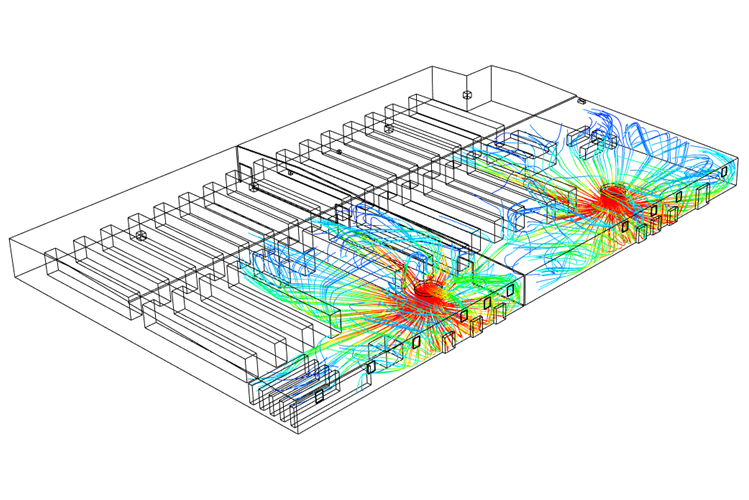 Today Moffitt uses ANSYS Discovery & ANSYS Fluent for CFD airflow modeling. We've tried several different CFD programs over the years, but we've settled on these two from our friends at ANSYS. These programs are easy for our staff to learn and use. Furthermore, they give us great new capabilities and a noticeable speed boost. Models that used to take us weeks to develop can now be done in a matter of hours.
We can model a ventilation system for any size building. We can also model a plethora of equipment solutions. This of course includes natural ventilators and wall louvers, but also A/C units, HVLS fans, and much more.
CFD Modeling and the Moffitt Team
At Moffitt, we do CFD modeling in house. Unlike other companies who outsource their CFD analysis, we have a dedicated CFD Engineering to specialize in modeling. Assisted by a growing staff, including CFD Engineer Interns, this person gets to focus solely on developing new ventilation models. This allows for better consistency between models and gives Moffitt an expert in the CFD field.
In addition to the dedicated CFD staff, the Project Engineers, Design Engineers, and even the Moffitt Plant Manager all have experience with CFD modeling.
CFD Modeling Future
Moffitt provides CFD Analysis for Buildings to help our customers see the impact of a new ventilation system before they've installed any equipment. Instead of investing in a new solution and hoping it works, we help them see it before it happens. That is why the future is in thermal modeling.
In addition to our software improvements, and staff expansion, we're also CFD modeling for our equipment. Our team utilizes CFD modeling for research and development into our vents, wall louvers, and even fans. Moffitt engineers look at how air moves through the unit to find obstructions or problem areas. They use air-flow studies to make our vents more efficient than ever before.
Moffitt and Computation Fluid Dynamics Modeling
Moffitt has been at the forefront of CFD ventilation modeling for years. For over a decade our team has used CFD modeling to design better ventilation systems. This allows us to design better ventilation solutions and to better serve our customers. If you're interested in Thermal Modeling and CFD Analysis for Buildings, contact the Moffitt team to learn more.