A Different Kind of Ventilation System
When you call Moffitt, you get more than a salesperson, you get a partner.
A partner who will listen to your problems.
A partner who will find out what you really need.
And, a partner who will help you find the right ventilation system for your facility.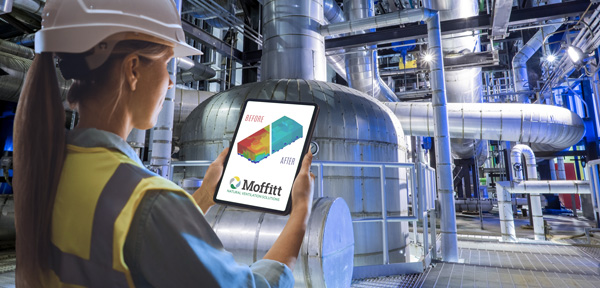 With Moffitt at your partner, you get a ventilation expert. We can help you determine where your ventilation problem is coming from. We'll see if you just need to replace some fans or if you're experiencing a building-wide issue with airflow. Similarly, our team will consider all of the factors to see if the problem might be a completely different issue, like insufficient intake air with your wall louvers.
Your Ventilation System Experts
It's important to have a partner that can properly discern your ventilation solution. It's the difference between someone selling you equipment and providing you solution. Our team is experienced with things like-
Exhausting built up heat.
Finding, and resolving, hot spots on the work floor.
Improving air flow in the building.
Providing options to meet your budget and schedule.
Figuring out how to make your employees happy.
Designing the best ventilation solution.
In summation, you can buy new fans from dozens of places, but only Moffitt can help you fix your ventilation system.
The Difference of Experience
Moffitt has been developing industrial ventilation solutions for over six decades. We combine this experience with state-of-the art technology. Our team utilizes 2D and 3D drawing tools to develop models specific to your facility. This includes everything from blueprint analysis to full building modeling. We also utilize Computational Fluid Dynamics (CFD) modeling to simulate air flows and heat transfers within your building.
Of course all of the technology in the world is meaningless without the people to use it. Our team of Project Engineers, Design Engineers, and CFD Engineers work with you to develop your new ventilation system. They work in conjunction with the sales people at the beginning of the project to the fabricators and installers at the end of the project. They often make site visits and take measurements themselves to ensure the information is correct. In other words, there is an entire team behind every project.
The Moffitt Difference
Anyone who knows how to open a window or turn on a fan knows the basics of ventilation. However knowing what equipment you need and where it should go is the real skill. Above all you need solutions, not products. In conclusion, that's the Moffitt Difference.