Industrial Crane Safety Tips from Moffitt
Cranes are the most dangerous piece of equipment that is used on a construction site and in a factory environment. Moffitt regularly uses mobile cranes on our projects along with cranes within the manufacturing facility. These cranes can lift heavy loads and crates full of equipment to heights between 30 feet to over 250 feet.
Whether you are part of the sales team, project team working in the office, or working in the field we must all be aware of the risks and dangers involved in our work. We are one team and at some point, in every project, from conception to completion, each of us has an opportunity to ensure we are planning and executing with safety as our goal.
Stay Safe with an Industrial Crane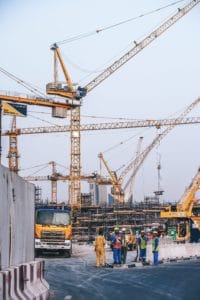 Those who work with cranes and other lifting equipment, especially while out on the job can be trained to take safety precautions to prevent an accident. However, accidents, unfortunately, do happen. Boom (or bucket truck) workers who go into the crane in order to do their job, might find themselves involved in an accident that could put them at risk, there are other factors such as falling, machine malfunction or even human error due to the reliance on hand signals ( or radio) used between worker and operator could end in miscommunication that could see the injury of the worker.
This could end in some life-changing injuries that might result in them not being able to work and might need to look into getting workers compensation. If this is something that has happened to you, you might want to investigate someone like this Bucket Truck Accident attorney in Huntsville, AL who might be able to help with your case. While accidents do occur, it is still important to keep safety in mind while on a project site. Read on for some key crane safety tips to keep in mind during your next installation.
Industrial Crane Safety Statistics
OSHA estimates that there are between 95,000 and 100,000 mobile and tower cranes operating in the United States. The number of crane accidents involving injury is on average between 900-1,100 each year. Of these accidents involving injury, there is an average of 89 fatalities. This means that 1/10 people involved in a crane accident are fatally injured.
The top three causes of death, in order from most common, are:
Being struck by the load being lifted.
Electrocution from contact with power lines
Incident Related to Crane Assembly
Staying Safe
Every Moffitt team member has a hand in ensuring that crane lifts are safe and successful on projects that we work on. As an equipment manufacturer as well as an industrial contractor, this applies to us in different ways. The most obvious is when our crews are using cranes on our projects in the field. We need to take care of each lift and plan to ensure smooth operations. Working out each step of a lift, and following the lift guidelines in the safety manual, will help ensure safe operations.
Of course, we also need to be aware of the risks that come with lifting equipment when we don't perform the installation work. Our customers rely on us to package our equipment in stable crating where the material cannot shift easily. This requires that the packages fall in line with maximum weight and dimension parameters. Thru each phase of the project, we need to ensure industrial crane safety.
Conceptual/Pre-Award
Getting the correct building heights and dimensions is the first step. The drawings and site visits assessments need to be as accurate as possible. Ensure proper planning with drawings and site assessments. It is important to account for clear crane access, away from power lines and critical areas or obstructions. It is also important to inquire about any specific requirements that they may want to incorporate into their planning.
Packaging
When crating and packaging our equipment we can make sure to keep a crate at the weight and distribution specified on the order while securing the materials to prevent shifting. When building our crates, we make sure that they are stable and secure. It is also important that we check the site beforehand to determine if there are any specific packaging requirements. When we have requests for packages to be at a certain weight, typically it is to meet their lift and crane limitations
Planning/Logistics
It is important to make sure that we are coordinating delivery and placement information with our clients. Minimizing equipment that is laying around on a site and coordinating shipment schedules help reduce confusion and clutter on a work site. This makes the installation operation run more smoothly later on. Industrial crane safety can also be ensure by
Construction
Sometimes crane work is provided by third-party crane rental companies. These companies provide the operator and the equipment for the job site. While this ensures expert crane operators, it is up to the site superintendent and safety supervisor to make sure that it is a safe, reputable crane company who maintains their equipment and certifications. We need to make sure that prior to scheduling a lift we have all of the proper documentation and inspections completed. Lift plans are critical to ensuring a safe and successful lift. It is vital to remember to obtain and review the crane company's past safety records.
Below are some tips to promote crane safety when working with an outside company.
Request safety documentation.
Make sure a qualified crane operator is being provided along with their certifications for the equipment they are operating.
Obtain the equipment inspection records for the crane equipment.
Use certified riggers to perform the rigging of all loads.
Make sure a lift plan is documented and always perform a pre-lift safety meeting involving all personnel.
Industrial crane safety isn't just the installation teams concern, it is also an issue for the design and manufacturing teams as well. Each work site is a dangerous place, and it is important that everyone does what they can to ensure the site stays safe.
Industrial Crane Safety is Job One
Moffitt realizes that no project is 100% successful unless everyone is safe and sound at the end. Installation of ventilation and HVAC equipment requires a skilled team of workers and a dedication to safety. That is why we design a safety plan for each job. We go to great lengths to ensure that we are following safety directives to the letter. Equipment preparedness helps reduce the risks and accidents that may arise. By following these crane safety steps we can ensure that we maintain a zero accident, zero incident success rate.