Steel Wall Louver Benefits from Moffitt
Natural Air Intake with Steel Wall Louvers
The wall louver is the most overlooked element of
industrial ventilation
. Virtually every industrial facility has wall louvers but little thought is ever put into their material, quantity or blade type. As the experts in
natural ventilation
, we realize that intake air, and in turn wall louvers, are a vital part of the process of keeping a building cool. At Moffitt, our design engineers can help make sure that you have the right type and number of steel wall louver for your facility.At Moffitt, we offer wall louvers made from a variety of materials. Each type has its particular benefits and drawbacks and no one type of louver is appropriate for all facilitates. That said, probably the most versatile of all
wall louvers
is the stainless steel wall louver.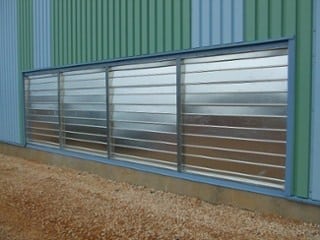 When compared with other types of materials steel louvers often offer the best first cost. Sizes range from 12″ x 12″ to 72″ x 96″ and can be custom made to fit almost any requirement. If you look at our catalogs, you will find our steel wall louver line under our "Industrial Wall Louver" category. Galvanized steel louvers are standard, but stainless steel wall louvers are also available. These units are the choice for facilities working in the
metal industry
as their durability and longevity have given them a proven track record of service.
Steel Wall Louver Blade Types
There are many different options available for wall louvers, but the most important option is deciding on the blade type. Steel Wall Louvers have either adjustable or fixed blade. Fixed louvers have the advantage of durability and require no attention or adjustment should the weather change. Adjustable louvers, on the other hand, will need to be closed when there is excess wind or rain. Reopen them again as heat builds up. It is easy to open and close wall louvers. In fact, you can often operate several banks of louvers from a single access point. Furthermore, the blades can be opened and closed with easy to use mechanisms. Manual chain pulls, hand cranked wheels, and even push-button options are available. For an even easier to operate the system, louver systems can be motorized for simple push button adjustment.
Free area and pressure drop are the best ways to categorize louvers. Adjustable louvers can open up to a full 90° for maximum air movement. Fixed blade louvers, on the other hand, have a free area angle of between 35° to 45°. While this still provides for ample free area and sufficient air movement, it means that less air is able to move through the unit when compared to adjustable blades. You can either add additional louvers or relocate existing ones to compensate for low air-flow.
Additional Options

Moffitt also provides the coefficient of discharge (Cd) ratings for all of its louvers. This is a more sophisticated way of measuring how air moves through an opening. The Cd is an important factor when designing a natural ventilation system using the ASHRAE equations. Instead of having to calculate the data yourself, Moffitt saves an important step by giving you the previously tested figures. We are one of the few companies that provide a complete coefficient of discharge figures for our louvers.
In addition to choosing blade type, there are a number of cosmetic and functional options also available for our industrial wall louvers. Steel wall louvers can be coated to meet pretty much any color requirements, and bird and insect screens can be made available when required. Local building codes, or even your own building requirements, will be considered when selecting louvers. A Moffitt design engineer can help you determine the right louver type for your building. As experts on natural ventilation, we know all aspects of non-powered air movement, including wall louvers. Moffitt Steel Wall Louvers will stand up to the most rugged of conditions. You can see our steel wall louver catalogs to learn more about the available options and functions of our louvers.
Contact a Moffitt representative today. We will help you find the right material, quantity, and blade type for your facility.