Superior Ventilation Solutions from Moffitt
With the increased awareness of energy costs and the environmental impacts of energy use, natural ventilation has become a more appealing method for reducing usage and cost. This natural ventilation approach provides superior indoor environment air quality and helps maintain a healthy, comfortable, and productive climate. When compared to the more customary approach of mechanical ventilation, natural ventilation solutions are much better. Superior ventilation solutions for the ultimate 'green' system.
As natural ventilation is a non-powered cooling system that uses natural airflow to cool a building, no electricity is consumed during operation. The combined use of roof vents and wall louvers evacuate the building of stifling air and bring in the fresh air naturally. These systems rely on pressure differences caused by the natural forces of wind, gravity, and buoyancy to deliver fresh air throughout a building. Since the system operates without the use of any powered equipment it allows a typical facility to save significantly on energy bills with little to no maintenance requirements.
Natural Ventilation Benefits
Natural ventilation superior ventilation solutions for large industrial buildings such as warehouses, factories, plants, or depots. Using this system helps to save on electricity overall and will be less expensive to set up as well. The lack of powered devices means far less secondary ventilation equipment to purchase and therefore less labor to install. Compared to a regular powered exhaust system maintenance costs are almost nonexistent due to the reduced complexity and self-sustaining ability of the system. The added savings from installing a system will pay for itself in 3 years time. The other top benefits are: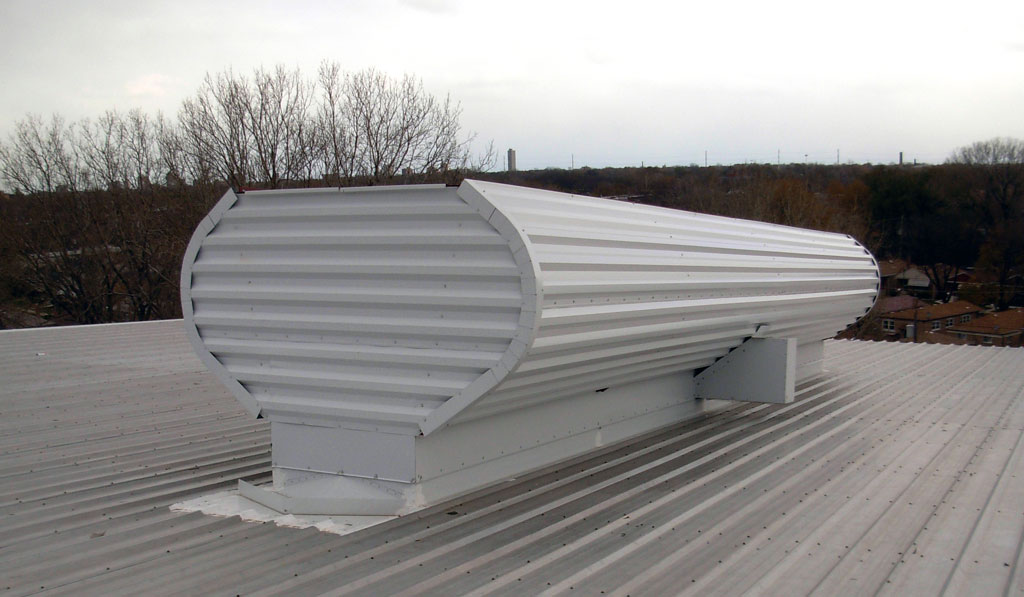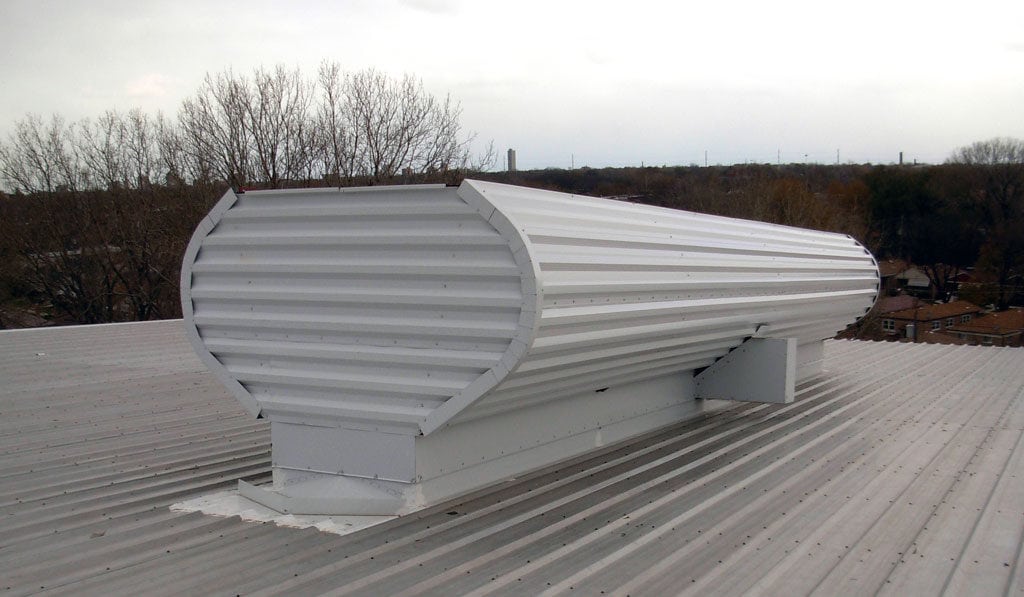 No Operation Cost
Zero Maintenance
No Noise
Zero Energy costs
Flexible design options
Workplace comfort improvement
Heat and smoke elimination
Positive pressure environment
Long life span
Natural lighting
One aspect to highlight that is becoming increasingly more important is the benefit of reducing our environmental impact. Naturally, ventilated buildings have significantly smaller environmental impacts due to the decrease in energy demand and a subsequent reduction in emissions of carbon dioxide and other elements that add to global warming. Workers prefer to work in conditions with fresh air flowing throughout. Combined with the natural sunlight benefits of a rooftop ventilator, a natural system can lead to improved health and productivity.
As experts, staying at the forefront of advances will always be a top priority so that we can meet our client's specific needs. From small retrofit projects to large construction sites, we understand the logistical and labor challenges of working in both congested urban environments as well as remote, country locations. Furthermore, we provide our clients with full turn-key services, where we handle their projects from start to finish. This allows us to save clients' money, improve communication, and offer the highest quality of customer service.
Superior Ventilation Solutions
Staying in control of your indoor environment with these naturally breathing buildings is a beneficial long-term investment. Enjoyable work conditions and lower energy bills from a self-sustaining system; What else could you ask for your work environment from your system? We have been providing superior ventilation solutions since 1961. We design, manufacture, and install all our equipment and have been doing so for over 55 years. Getting a free quote is easy, fill out the form here and one of our experienced representatives will be in touch with you shortly!
John Moffitt, President of Moffitt said it best:
"At Moffitt, we have a passion for industrial ventilation. We enjoy taking our customers' needs from an idea to a design, into a system and completed installation. We like what we do and that shows in our service and our final product. At Moffitt, we have a passion for industrial ventilation. We enjoy taking our customers' needs from an idea to a design, into a system and completed installation. We like what we do and that shows in our service and our final product. Superior ventilation solutions are who we are."