TriadVent for Commercial Applications and its Benefits
It is hard for workers to do their jobs when a building is hot and uncomfortable. Whether it's being covered in sweat, having to take water breaks, or simply having a tough time getting around, heat can be oppressive. If you run a large, hot building, you know how the heat can be a drain on your employees. From morale to productivity, heat poses several problems. That is why Moffitt offers the TriadVent for commercial applications. It is a tri-purpose device that provides open air natural ventilation, rain protection, and full-time natural daylighting.
A Tri-Purpose TraidVent for Commercial Applications
The most remarkable thing about the TriadVent is the fact that it serves three purposes efficiently, including the following:
Natural Ventilation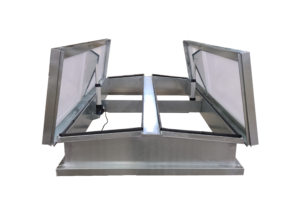 Natural ventilation can help keep your building cool, and make sure your equipment runs efficiently. Most importantly though, it is important for the health and morale of your employees.
The TriadVent can help to keep your building cool. It features dual flaps that open to expel warm stale air from the building. This allows the heat from the equipment and the workers to escape into the sky above instead of building up.
Small and unassuming, these units can have a significant impact on a building. Like opening a window in a hot, stuffy room, they let the air move around the space. Plus, when they are tied into a building automation system, they can open automatically when the thermometer reaches a certain temperature.
Rain Protection
When it rains, the TriadVent will not fail you. In the event of inclement weather, the auto-closing hatches activate before rain enters. Units are wired to advanced rain sensors to eliminate lag time and prevent water entry. The unit activates so quickly that it closes before any moisture enters the building.
Units can also be tied into a building management system for manual opening and closure. This is good if you want to be pre-emptive if the forecast calls for rain or if more control is needed.
Natural Daylighting
The TriadVent also provides natural daylighting, whether the flaps are opened or closed. When open, the natural UV rays from the sunshine down on the workers. The translucent flap coverings let the daylight in even when the unit closes. Weather-protected daylighting means you can always work, even when the flaps are closed. The extra sunlight also helps to boost employee morale.
Additional Features
Still not sure if the TriadVent is the right solution for your building? In addition to its three core purposes, here are a few additional features we didn't want to go unmentioned.
Installation: The TriadVent is easy to install due to its compact size and fully assembled shipping. This prevents installation problems and reduces the cost of installation overall. It can also be made to order to suit your facility. The TriadVent has proven to be a great, direct replacement for skylights.
Versatility: Whether you have an automotive manufacturing plant, paper mill, metal forming plant, an agricultural facility or virtually any other building, it can help lower temperatures. From heavy commercial to light industrial, the TriadVent is the ideal natural ventilation solution.
Safety: The TriadVent also has the safety features you would expect from a roof-top unit. Life-safety guards are installed to ensure the unit is not a fall-in hazard for anyone on the roof. Additional safety features can be added as required.
 Moffitt TriadVent for Commercial
In conclusion, the TriadVent is a tri-purpose device that will provide natural ventilation, rain protection, and full-time natural daylighting. It is an excellent solution for facilities with heavy commercial or light industrial applications.
Contact us today to learn more about our commercial ventilation & natural ventilation solutions and services and to see if the TriadVent is the right solution for you.