Ventilating the West, Our New Regional Sales Office
Moffitt Goes West
Moffitt Corporation is now ventilating the west. We're opening of our new regional sales office in Denver, Colorado. This office is designed to better serve those customers and clients located in the western states. The new location will enable the team to serve you better with in-house consultations, training, and site visits.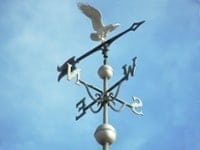 Director of Sales Mark Hannah will oversee the new office. He will be setting up meet-and-greets and holding special introductory Lunch & Learn seminars over the next several months. Furthermore, he will be on hand to help you and your clients with all your industrial ventilation needs.
Moffitt Corporation specializes in industrial ventilation solutions with a concentration in natural ventilation. For over 50 years we have worked hand-in-hand with engineers, contractors, and building owners to find the optimal ventilation system for their projects. We work on projects in a variety of industries including steel, aluminum, power, paper, glass, and more.
Ventilating the West, About Moffitt
Founded in Pittsburgh, PA in 1961 Moffitt Corporation has seen tremendous growth in last fifty-three years. Moffitt has expanded from a northeastern U.S. company catering to steel mills to a global turn-key ventilating service provider for a variety of industrial facilities. Led by President John Moffitt, Moffitt Corporation continues to grow year after year.
Finally, to see how Moffitt can help you in ventilating the west and your industrial facility, contact us today