Commercial Ventilation from Moffitt
Ventilation for the Heavy Commercial Sector
Moffitt is known around the world for its expertise in industrial ventilation solutions. But did you know we also provide equipment for the heavy commercial ventilation market as well? That's right, while we do most of our business in foundries, mills, and power plants, we also offer a variety of solutions for the commercial marketplace as well.
At Moffitt, we provide a complete line of natural solutions for the building envelope. We can help with any part of the building where people walk, work, or sweat. Our most obvious solutions include natural ventilation, but we also do natural daylighting, natural heat and smoke control, and natural cooling too.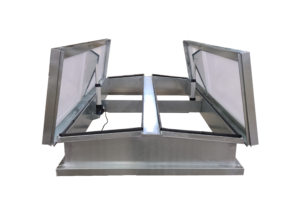 The Ridgepac, GreenRoo™, MatrixVent, and LightStream are all ideal for commercial and institutional settings. They are lightweight, efficient, and work well in spaces with moderate amounts of heat. Plus, as with any natural ventilation device, they use no electricity and require no maintenance.
Furthermore, the Ridgepac and GreenRoo™ have been used in commercial laundry facilities, shopping centers, and distribution buildings. They are designed for continuous natural ventilation. The MatrixVent and LightStream all work well in facilities that may only need ventilation some of the time. Additionally, gymnasiums, warehouses, and lobbies see a great benefit in these units.
COMMERCIAL DAYLIGHTING
Second, Moffitt also offers natural daylighting devices. The MatrixVent and LightStream all have the added benefit of being fantastic daylighting devices as well. The translucent panels let in vast amounts of daylight whether the units are opened or closed. This helps brighten up any space instantly and can change the whole feeling of the building. Plus, in many cases natural daylighting works even better than electrical lighting. Of course, it doesn't hurt that it saves on the cost too.
COMMERCIAL HEAT AND SMOKE RELIEF
Additionally, The Moffitt Firex is a smoke relief and life safety device. It opens automatically in the event of a fire. This lets hot air and smoke escape allowing workers to see to evacuate and firefighters to reach the source of the problem more effectively. Stairwells, warehouses, and theater stages all use heat and smoke relief vents.
Plus, its translucent panels make it an effective daylighting device as well.
COMMERCIAL COOLING
Next, one of our newest and most exciting products at Moffitt is our DeltaStream natural evaporative cooling unit. This device uses evaporative cooling to lower building temperatures. Visit the DeltaStream page to learn more about how it works. About every type of facility can benefit from a DeltaStream. Workrooms, meeting halls, data centers, and even retail stores have all seen the benefits of natural cooling.
POWERED COMMERCIAL VENTILATION
Finally, Moffitt also offers a complete line of powered commercial ventilation fans as well. These are similar or even identical to the types of fans found in large industrial facilities. Sometimes the horsepower or size is different, other times they can be the same. A fan designed to provide supply air in a Pressure Gravity System® into a steel mill can also provide supply air into a warehouse. The Moffitt Power Ventilation line includes a variety of axial fans and centrifugal fans used in everything from kitchens and storerooms to warehouses and offices. See our Powered Ventilation page to learn more.
Years ago, commercial building owners wouldn't have even considered natural ventilation or natural solutions. However, the recent drive towards being green and lowering costs has to lead to more open minds. Moffitt has been the natural ventilation specialist for over 55 years and as demand for it increases in the industrial space, we want to be there.