The Firex Automatic Smoke Vent Save Lives
An emergency automatic smoke vent, like the Moffitt Firex have been proven to save lives. When there is a fire emergency smoke vents open automatically without electricity or human action. Give workers more time to escape, improve firefighter access, and decrease and the dangers of smoke inhalation with a smoke vent. The Moffitt Firex has been manufactured for over 60 years and has helped protect hundreds of buildings from kitchen fire damage as well as thousands of lives.
Emergency Heat and Smoke Control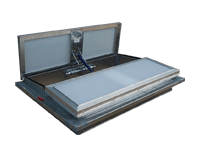 The Moffitt Firex Automatic Heat and Smoke Vent has been continuously manufactured since 1956. In that time, it has been repeatedly improved through steady research and development. While the principle of smoke relief has remained the same, the design of the equipment itself is state of the art. As an automatic smoke vent, the Firex is one of the best ones on the market.
Our team takes great care in fabricating each and every smoke unit and their record of accomplishment backs it up. We stand by each unit we produce. We're proud to say that we make every Firex right here in the U.S.A. Made in America is more than just a slogan for us. Each vent is UL listed (UL 793 Automatically Operated Roof Vents for Smoke & Heat). UL and FM Approval labels are available upon request.
The Heat and Smoke Vent in Action
Large facilities such as storage buildings, warehouses, theaters, and factories can be a challenge for firefighters. These buildings are usually full of equipment and/or inventory and have few entrances. This makes these buildings difficult to access during a fire and can slow response time. Rapid lateral fire spreads quickly in buildings with large floor areas, which increases the need for restoration companies to step in. Additionally, temperatures quickly rise to unbearable levels.
The National Fire Protection Association (NFPA) has performed full-scale testing that proves proper ventilation will assist firefighters in accessing the source of the fire. Therefore, they can act more directly against it. Consequently, this reduces overall danger to the firefighters and workers. Finally, it also reduces damage to the building.
Benefits to having a Heat and Smoke Relief vent.
PREVENTS THE SPREAD OF SMOKE: A vent will automatically release the heat, smoke, and general products of combustion. Fire venting enables firefighters to see the fire, to approach the source and tackle it without breathing apparatus. This also prevents excess smoke damage to surrounding equipment and inventory.
REDUCES LATERAL SPREAD OF FIRE: Proper smoke ventilation will prevent heat from mushrooming over the fire area and heating materials adjacent to the point of ignition. Proper ventilation will prevent this by reducing the lateral spread of fire. Instead of expanding outward, the fire expands up, slowing the spread and reducing the risk.
IMPROVES ACCESS FOR FIREFIGHTERS: In addition to letting the smoke get out, the vent openings also let firefighters get in. Open vents enable the rescue team to douse flames directly from the rooftop. Not only is this method much safer it also saves a great deal of time.
PREVENTS EXPLOSION: Automatic fire venting removes partially burnt gasses which may build-up in the roof space and cause an explosion.
REDUCES WATER DAMAGE: Enabling firefighters to access the fire's source more easily. With improved access they can apply water straight onto the fire. Additionally, as a smoke vent will prevent the lateral spread of heat it will also reduce the number of sprinkler heads in operation to only those directly centered over the fire. This prevents the inventory and the equipment from water damage.
LIMIT ROOF TEMPERATURE: A fire venting system will also help keep the temperature in the roof space from reaching dangerous levels. This keeps the temperature below the damaging point of structural steel and prevents distortion and collapse of the building.
Choosing the Right Automatic Smoke Vent
Selecting a smoke vent isn't the same as choosing other types of ventilators. An automatic smoke vent is a life safety device, which requires a fire engineer to determine the quantity and location requirements. The engineer will consider a variety of factors such as building size and layout, internal heat load, skylights, and windows. Ventilating for fire, smoke, and carbon monoxide, is different than venting just for heat.
When choosing a fire vent there are some crucial factors to take into consideration. For instance, all opening mechanisms become made of non-corrodible materials. To ensure quality, only purchase UL Listed smoke vents. Also, purchase fire vents from a reliable company with a proven track record. Skylights or even hinged windows are not a replacement for automatic smoke control devices and are not rated as such. If you have questions regarding heat and smoke vent selection, please contact Moffitt.
As a building owner, it is important to remember to keep vents securely closed and inspect them regularly. Manually test each unit at least once a year to ensure proper operation. Also, properly secure each automatic smoke vent to prevent internal pressure build-up during excess rainstorms or high winds. Also, don't forget, vents are not a substitute for sprinklers or other fire extinguishing equipment. They work as a part of the entire fire prevention system.
For more information about the Moffitt Firex, contact us today.