Hazardous Communications
In 2018, recent changes to the OSHA Hazard Communication Standard brought the US into alignment with the United Nations Globally Harmonized System of Classification and Labeling of Chemicals (GHS). The GHS is a system for standardizing and classification and labeling of chemicals. As a company that deals with these chemicals on a regular basis, Moffitt trains on HAZCOM safety on a regular basis.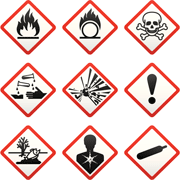 HAZCOM / GHS is a logical and comprehensive approach to:
Defining health, physical and environmental hazards of chemicals
Creating classification processes that use available data on chemicals for comparison with the defined hazard criteria
Communicating hazard information, as well as protective measures, on labels and Safety Data Sheets (SDS)
Building on the success of OSHA's previous Hazard Communication Standard, the GHS is expected to prevent injuries and illnesses. save lives and improve trade conditions for chemical manufacturers. The Hazard Communication Standard in 1983 gave workers the 'right to know,' but the new GHS system gives workers the 'right to understand.'
Major changes to the Hazard Communication Standard
Hazard classification – chemical manufacturers and importers are required to determine the hazards of the chemicals they produce and import. Hazard classification provides specific criteria to address health and physical hazards as well as classification of chemical mixtures.
Labels – chemical manufacturers and importers must provide a label that includes a signal word, pictogram, hazard statement, and precautionary statement for each hazard class and category.
Safety Data Sheets – the new format requires 16 specific sections, ensuring consistency in presentation of important protection information.
Information and training – to facilitate understanding of the new system, the new standard requires that workers are trained on the new label elements. It also dictates the safety data sheet format, in addition to the current training requirements.
The central idea behind the changes stems from a manufacturer's (and an employer's) responsibility to inform all workers working with, or around, a chemical of its inherent dangers.
HAZCOM Pictograms
Further, the changes focus on the use of standardized pictograms that identify the hazard. This identification should be easy no matter what language the worker speaks. You may have seen these pictograms on trucks, buildings, and SDS forms. In the field or in the factory, it is important that all chemicals and compounds have a pictogram. They are also useful in informing other trades and visitors of the hazards of a specific product too. The SDS is important because it includes points of cautions on that specific product. Moffitt follows all HAZCOM requirements in the factories and jobsites. HAZCOM pictograms and information includes:
Product and Company Identification
Hazards Identification
Composition/Information on Ingredients
First Aid Measures
Firefighting Measures
Accidental Release Measures
Handling and Storage
Precautions to Control Exposure/Personal Protection