LVR-3045-4-G drainable blade louver is designed to prevent water penetration in non-wind-driven rain applications by collecting water in frame and blade gutters and channeling it into downspouts and away from airflow paths. The LVR-3045-4-G is available in a wide array of painted finishes including custom color matching. Louver dimensions furnished approximately 1/2″ (13) undersize.
Standard Features
Material: Galvannealed steel
Frame" 4″ deep × 20 thick (102mm × 1mm) channel
Blades: 45° × 20 (1) thick drainable style
Screen: 1/2″ × 063″ (12.7mm × 1.6mm) expanded and flattened aluminum
Mullion: Visible
Minimum Size: 12″ × 12″ (305mm × 305mm)
Maximum Size:

Single section: 48″ × 96″ (1219mm × 2438mm)
Multiple section: Unlimited
Optional Features
Factory Finish

High-Performance Fluoropolymer
Prime Coat
Baked Enamel

Frame Options

1-1/2″ (38) flange frame
Stucco flange
Glazing frame
Hinged frame
Subframe
Customized frame

Installation Hardware

Clip angles
Continuous angles

Additional Options

Hidden Vertical Mullion
Heavy duty 16 (1.6) construction
304 stainless steel construction
Welded construction
Alternate bird or insect screens
Insulated or non-insulated blank-off panels
Filter racks
Head and/or sill flashing
Burglar bars
Frame closure
Net OD (actual size)
Product Catalog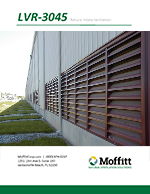 Product Testing and Certification
Free Area: 48" × 48" (1219mm × 1219mm) unit: 5 ft2 (0.79 m2) 53.1%
Performance @ Beginning Point of Water Penetration Free Area

Velocity: 715 fpm (3.63 m/s)
Air Volume Delivered: 6,092 cfm (2.88 m3/s)
Pressure Loss: 0.11 wg. (27 Pa)

Velocity @ 15 in. wg. Pressure Loss: 850 fpm (4.32 m/s)
Design Load: 30 psf
Product Mounting
LVR-3045-4-G wall louvers are mounted on the sidewall at any elevation.