LVR-6045-4-EA louver features operable blades that provide positive airflow shutoff when closed and protection against water when open. It is available in an array of anodized & painted finishes, including color-matching. Units are also available with factory mounted electric or pneumatic actuators. Louver dimensions furnished approximately 1/2″ (13) undersize.
Standard Features
Material: Mill finish 6063-T5 extruded aluminum
Frame: 4″ deep × 081″ thick (102 × 2) channel
Blades: 45° × 081″ (2) thick operable drainable style
Screen: 1/2″ × 063″ (12.7 × 1.6) expanded and flattened aluminum
Axles: 1/2″(13) diameter plated steel hex
Low Leakage Seals: TPV blade edge and flexible metal jamb
Linkage: Concealed in frame
Bearings: Synthetic
Mullion: Visible
Minimum Size: 12″ × 12″ (305mm × 305mm)
Maximum Size:

Single section:

48″ × 96″ (1219mm × 2436mm) with low leakage seals
60″ × 96″ (1524mm × 2436mm) without low leakage seals

Multiple section: Unlimited
Optional Features
Factory Finish

Polyester Powder
Baked Enamel
Prime Coat

Frame Options

1-1/2″ (38) flange frame
Stucco flange
Glazing frame

Installation Hardware

Clip angles
Continuous angles

Heavy duty 16 (1.6) const.
304 stainless steel construction
Welded construction
Hidden Vertical Mullion
Alternate bird or insect screens
Insulated or non-insulated blank-off panels
Filter racks
Hinged frame
Subframe
Head and/or sill flashing
Burglar bars
Frame closure
Net OD (actual size)
Product Catalog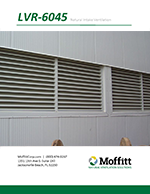 Product Testing and Certification
Free Area: 48" × 48" (1219mm × 1219mm) unit: 9 ft2 (0.64 m2) 43.1%
Performance @ Beginning Point of Water Penetration

Free Area Velocity: 1,024 fpm (5.20 m/s)
Air Volume Delivered: 7,096 cfm (3.35 m3/s)
Pressure Loss: 0.16 wg. (40 Pa)

Velocity @ 15 in. wg. Pressure Loss: 1,000 fpm (5.08 m/s)
Design Load: 30 psf
Product Mounting
LVR-6045-4-EA wall louvers are mounted on the sidewall at any elevation.