LVR-1045-4-EA Extruded Aluminum Louver is designed for intake and exhaust application where protection against water infiltration is not critical. The LV1045-4-EA is well-suited for special shape applications and is available with hidden mullions for a continuous blade appearance of multiple section assemblies. Each unit is available in an array of anodized and painted finishes including custom color matching. Louver dimensions furnished approximately 1/2″ (13) undersize.
Standard Features
Material: Mill finish 6063-T5 extruded aluminum
Frame: 4″ deep × 0.081″ thick (102mm × 2mm) channel
Blades: 45° × 0.081″ (2) thick operable J-style
Screen: 1/2″ × 0.063″ (12.7mm × 1.6mm) expanded and flattened aluminum
Axles: 1/2″ (13) diameter plated steel hex
Linkage: Concealed in frame
Bearings: Synthetic
Mullion: Visible
Minimum Size: 12″ × 12″ (305mm × 305mm)
Maximum Size:

Single section:

48″ × 96″ (1219mm × 2436mm) with low leakage seals
60″ × 96″ (1524mm × 2436mm) without low leakage seals

Multiple section: Unlimited
Optional Features
Factory Finish

High Performance Fluoropolymer
Prime Coat
Baked Enamel
Clear Anodize
Integral Color Anodize

Frame Options

1-1/2″ (38) flange frame
Customized frame
Stucco flange
Glazing frame
Hinged frame

Installation Hardware

Clip angles
Continuous angles

Welded Construction
Alternate Bird or Insect Screens
Insulated or non-insulated blank-off panels
Filter racks
Head and/or sill flashing
Burglar bars
Net OD (actual size)
Factory mounted electric or pneumatic actuator
Low leakage seals: PVC blade edge and flexible metal jamb
Product Catalog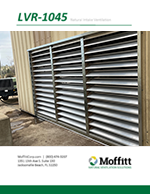 Product Testing and Certification
Free Area: 48" × 48" (1219mm × 1219mm) unit: 10.96 ft2 (3.34 m2) 68.5%
Performance @ Beginning Point of Water Penetration
Free Area Velocity: 683 fpm (3.47 m/s)
Air Volume Delivered: 5,016 cfm (2.37 m3/s)
Pressure Loss: 0.10 in. wg. (25 Pa)
Velocity @ 0.15 in. wg. Pressure Loss: 910 fpm (4.62 m/s)
Design Load: 30 psf
Product Mounting
LVR-1045-4-EA wall louvers are mounted on the sidewall at any elevation.