Moffitt Contractor Safety Gear Guide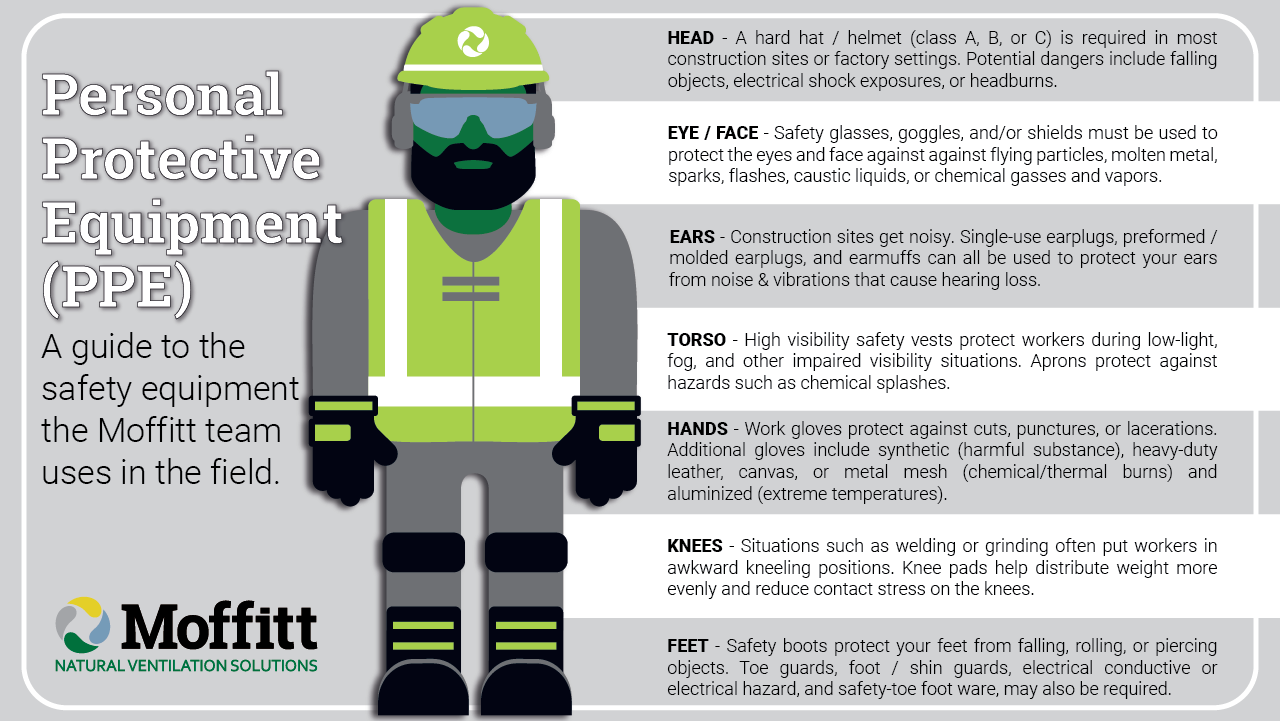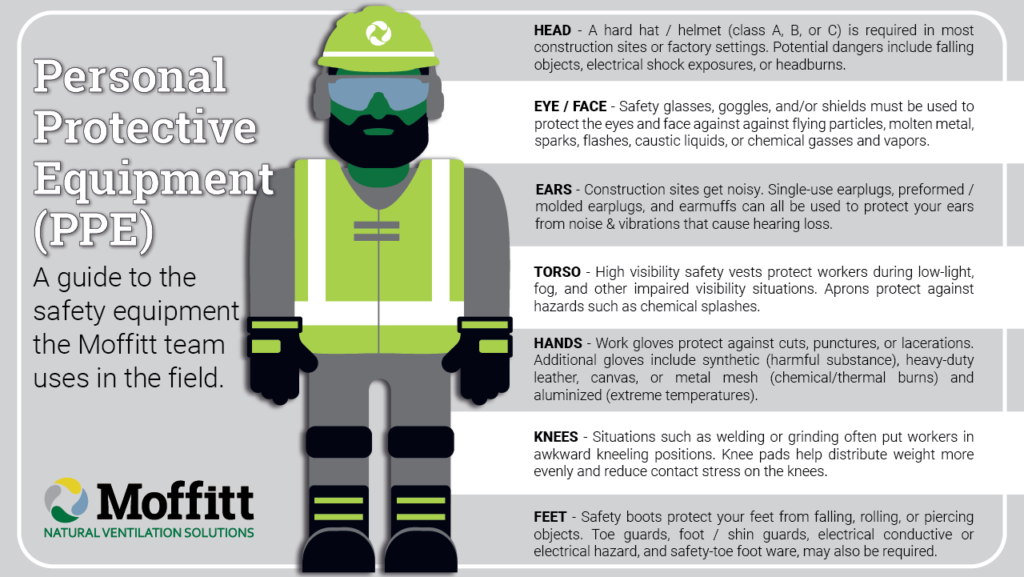 Be prepared for the job site with the Contractor Safety Gear Guide from Moffitt. This guide covers all of the Personal Protective Equipment (PPE) that our team wears on site. All jobsites do not require all of the PPE depicted. However, our team regularly uses this safety equipment in our work. Read on for more about each PPE item.
HEAD PROTECTION
Most, if not all construction sites & factory settings require a hard hat / helmet (class A, B, or C). Potential dangers include falling objects, electrical shock exposures, or head burns. Moffitt regularly hoists equipment and materials onto the roof top. That's why Moffitt team members regularly wear hard hats when on a job site or making a site visit.
EYE & FACE SAFETY
Safety glasses, goggles, and/or shields protect the eyes and face against against any number of objects. This includes the obvious like flying particles, sparks, & flashes, as well as most construction sites or factory settings, caustic liquids, or chemical gasses and vapors. Of course we've all become more familiar with face protection over the last few years. Safety masks, and even respirators, are also utilized as needed.
EAR PROTECTION
Construction sites get noisy. Workers can protect their ears with single-use earplugs, preformed / molded earplugs, and earmuffs. PPE for the ears is vital to prevent hearing loss, but it is also useful for ensuring visual and non-verbal communication is implemented.
TORSO SAFETY
High visibility safety vests protect workers during low-light, fog, and other impaired visibility situations. Aprons protect against hazards such as chemical splashes.
HAND COVERINGS
Work gloves protect against cuts, punctures, or lacerations. Additional gloves include synthetic (harmful substance), heavy-duty leather, canvas, or metal mesh (chemical/thermal burns) and aluminized (extreme temperatures).
KNEES & KNEE GUARDS
Situations such as welding or grinding often put workers in awkward kneeling positions. Knee pads help distribute weight more evenly and reduce contact stress on the knees. Most job sites do not require knee pads, but they are invaluable for some positions. Workers performing roof cutting and vent assembly should wear pads to protect their knees.
FEET & TOES
Safety boots protect your feet from falling, rolling, or piercing objects. Most projects require foot safety of some kind. Often steel toed boots. Toe guards, foot / shin guards, electrical conductive or electrical hazard, and safety-toe foot ware, may also be required. Steel toed boots are a must-have for any Moffitt employee on a job site.
MOFFITT CONTRACTOR SAFETY
Moffitt understands the importance of employee and contract safety. Our team members are often on rooftops and in dangerous situations. As a result, we make sure everyone has the proper PPE for each job. We also make sure we train each employee on how to properly use the equipment. Field staff, engineers, and salespeople all take PPE training. Each team member knows they must have hard hats, hearing protection, hi-vis vests, steel-toed boots, and eye protection when on site. Moffitt employees, MCI network members, and associates will not be allowed to work or remain on a job site without proper PPE and proper safety practices.
Contact Moffitt for more information on our safety procedures.