Moffitt Powered Exhaust Equipment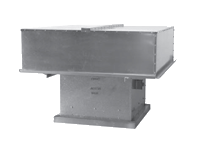 If you need to pressurize your facility, say for hygiene purposes, the Moffitt Hooded Roof Fan is the ideal unit for your building. This industrial fan is immensely powerful, exceptionally reliable, and customizable to suit the ventilation needs of your facility. Below are some features and benefits of the Moffitt Hooded Roof Fan units.
Fan Housings
The Hooded Roof Fan, like most Moffitt powered exhaust equipment, is available in aluminum, steel, and stainless steel. The aluminum material ensures that the roof exhaust fan will withstand more hostile environments. On the other hand, the steel and stainless-steel housing options are capable of withstanding heavy wear and tear. With a variety of options, you can choose the ideal fan housing that best suits your environment and industrial needs.
Manufactured with High-Quality Materials
In addition, the interior components of the Moffitt Hooded Roof Fan utilize the best quality materials available. Aluminum or fiberglass for Powered Exhaust Equipment adds durability. The hubs are aluminum, and the interior is galvanized stainless steel. All these ensure that the roof exhaust fan meets the highest industry standards expected and that they will serve you for many years to come.
Improved Efficiently
Each fan blade is dynamically and statically balanced for smoother and more efficient operation. Each unit has a variable pitch drive standard through 3 HP. The motor drives a sized for a minimum 150% of drive horsepower. We stand by our efficiency and quality with a standard 1-year fan and motor warranty.
Product Mounting
Lastly, the Moffitt Powered Exhaust Equipment is roof mounted. It comes with an insulated 100 MPH wind-rated resistant hood, which covers the fan apparatus. Roof curbs are available when required. A roof curb makes it possible to mount the roof exhaust fan securely and safely, irrespective of the slope or pitch.
Moffitt will customize model 8100 and model 8300 Powered Exhaust Equipment fans to meet your specific needs. There is a wide array of standard options and special options available, as well as custom features that we may not have even thought of yet.
Contact us today to learn more about our products and services. Our dedicated team will be available to discuss and recommend the ideal industrial fan that best meets your specification and needs.