A Streamlined Powered Ventilation Fan System for More Efficient Cooling
Even as summer winds down your factory or warehouse still needs powered exhaust fans. When a fan breaks, buying a new one from a random catalog may seem like a quick and easy fix, but it's just masking the problem. You need to think about why that fan broke, how you can make it last longer next time, and how you can ensure you're not throwing money away. It's important to look at the entire system, and design a complete solution, to keep your powered ventilation fan system running smoothly. Moffitt can help you streamline the fan selection process and produce a solution to meet your needs.
Ventilation System Design
Although natural ventilation is always our focus at Moffitt, we also offer a wide range of powered fans. These fans make up the Moffitt StreamLine and come in a variety of shapes and sizes to fit your needs. This line includes fans for the whole building like the PressureStream, fans for the workstation like the GulfStream Fans, and fans for the whole workspace like the UpStream Fans. It also includes fans for sub-ambient cooling like the DeltaStream and fans for heating and larger applications like our Make-up Air Units.
If you're looking for a real, long-term solution to your building's ventilation issues, we can help. Our trusted experts will work with you to design the ideal powered ventilation system to meet your unique needs. Whether you need a personal cooling fan or a ventilation system for the whole building, we have a solution for you.
Choose from Moffitt's Powered Ventilation Fan Solutions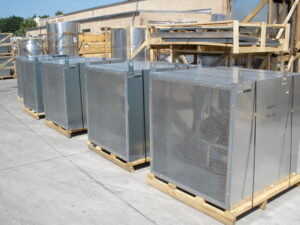 At Moffitt Corporation we provide solutions. That is why we offer unique, efficient, and reliable ventilation systems. Here are a few of the features and benefits of utilizing our powered ventilation solutions:
Deliver a consistent stream of clean, fresh air for your personnel.
Remove heat, humidity, and fumes from problem areas automatically, leaving you with clean, breathable air.
Direct fresh air to where it's needed most.
Increase efficiency and performance by utilizing fully automated control systems.
Provide variable frequency drive controls that more precisely set the speed of the entire unit.
Include durable, industrial housing & props to ensure they can stand up to the rigors of heavy industry.
Utilize dual and quad units to boost airflow and improve overall performance.
Do You Need a New Ventilation System?
For nearly sixty years, Moffitt has been catering to the ventilation needs of customers across the nation. Contact us today to learn more about our powered ventilation fan solutions, as well as our natural ventilation systems. Our trusted experts will be available to speak with you and discuss your best options for a complete ventilation solution. Make sure your ventilation is powered by Moffitt.