Warehouse Ventilation with the Ridgepac Ridge Ventilator
.A ridge ventilator allows warm, humid air to escape a building. A ridge ventilator, or ridge vent, sits at the ridge, or peak, of a sloped roof. The right type of ventilation can mean the difference between a stuffy, uncomfortable space, and a cooler space where the air feels fresh. That is where the ridge vent comes in.
Where are Ridge Vents Used?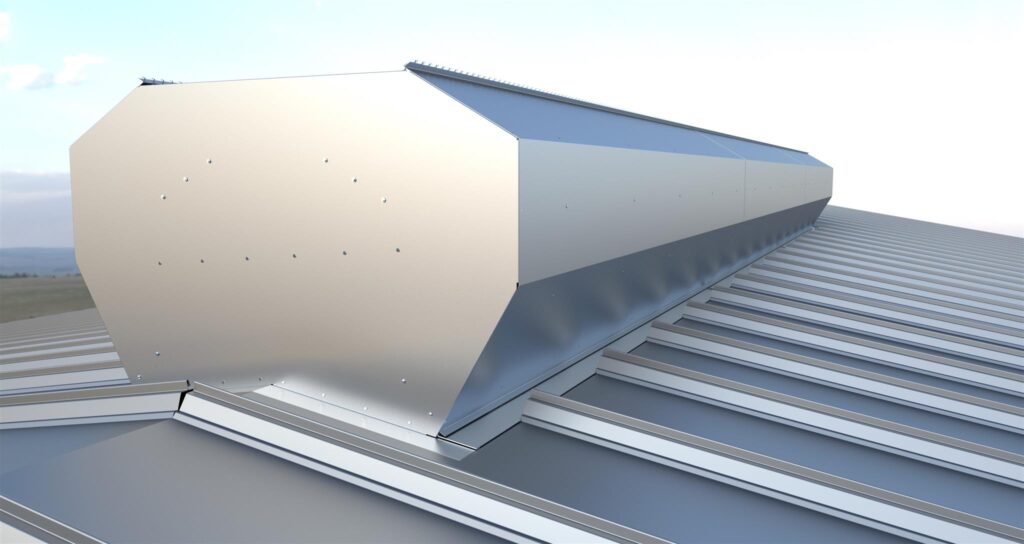 Ridge ventilators are commonly utilized on shingled residential buildings. For instance, if you were to redo your home's roof tomorrow, the roofer would likely offer a ridge vent to help exhaust the warm air from your attic. This would improve airflow through your home to you keep your space cooler. This has the added benefit of keeping your energy bills down by circulating air more efficiently.
You can also find ridge vents in industrial spaces. These units are generally larger, and more complex, but they perform the same function. For instance, a warehouse will utilize a large ridge vent, like the Moffitt RidgePac, to release the hot air generated by the workers, the lights, the sun, and the process. A ridge vent will help to circulate comfortable air inside the building.
Choosing the Wrong Ridge Ventilator
It can be a challenge to find the right ridge vent for your building. Choosing the wrong size, or even the wrong product, is unfortunately all too common. There is a huge difference between a 9″ vent that runs 10 feet, and a 36″ vent that runs 500 feet. Furthermore, there's also a big difference between a product like the RidgePac, which is designed for warehouses, and a residential roof vent, like one from Owens Corning. While a perfect product for your home, such a vent would inefficient for your building. Conversely a big vent, like the MoffittVent or MatrixVent, is also wrong for most warehouses.
Beyond choosing the wrong size, some customers choose a vent that is totally wrong for their building. While all ventilation is useful, the wrong application can cause a vent to hinder airflow in the building. For instance, installing a ridge vent without factoring for the proper amount of intake air can affect the pressurization within the building. Furthermore, the wrong vent may trap heat at the ceiling, often in spots where you need ventilation the most. That is why it's so important to make sure you choose the right ridge vent for your building.
Finding the Right Ridge Vent for your Facility
The team at Moffitt can help you find the right ridge ventilator for your facility. Our team will look at your building dimensions and your process to help you find the right solution. With our free ventilation design we can tell you if your plant needs a 9″ ventilator running continuously along the ridge, or something more substantial. Having the right ventilation solution can result in a temperature difference of 30° or more for your plant. Furthermore, vent dampers make all of our ventilators part of an All-Seasons Solution.
Contact us and we will help you create a better environment in your warehouse, storage area, or manufacturing facility.