Safer Building Temperatures With Better Ventilation
With the summer months in full swing, now is the time to make sure you have safer building temperatures in your building. Maintaining healthy conditions will keep employees safe, loyal, and happy. Moffitt creates better environments with a variety of ventilation solutions.
We help buildings that desperately need to improve airflow and light for their workers' comfort. Whether it's an old building, one that had to make a lot of changes over its life, or one that is simply expanding too fast. There are lots of reasons why a building can become hot and dark. Poor conditions can cause a variety of problems for a factory; from poor morale to safety hazards, and hot environments, dark buildings should be a thing of the stone age.
NATURAL VENTILATION SOLUTIONS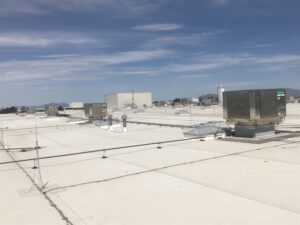 Normally when the ventilation shuts off the plant starts to heat-up immediately. At that point, it takes longer to bring the temperature back down to a more manageable level. The heat lingers in the air, on the machinery, and even in the floor. Then, when the power does come back on, the equipment must work overtime to "cool down" the plant. However, unlike exhaust fans, chillers, or A/C, natural ventilation never shuts down. That means it keeps providing airflow even when the power is out. It also means that there is no "cool down" time because the temperature doesn't rise during an outage. Instead, the plant stays around, or below, the outdoor ambient temperature the whole time.
POWERED Solutions
Powered ventilation products, like the DeltaStream, GulfStream, MegaStream, and JetStream help circulate air throughout the work area in a commercial or industrial setting. These powered ventilation products provide significant relief to employees working on assembly lines, around racking systems, or in loading areas. Along with our other Streamline Fans, these units help provide safer worker conditions.
In addition to natural and powered solutions, Moffitt also provides a combination of the two known as Hybrid Ventilation Solutions. This process allows for greater responsiveness to external conditions. Working more when it gets hotter, working less, or even switching to heating, when it gets cold. In essence, it helps keep the space comfortable throughout the day and in different seasons.
SAFER BUILDING TEMPERATURE RULES
Extreme heat puts workers at risk for heat stress. Workers are demanding safer, and more comfortable working environments, and the Government is listening. New rules about maintaining safer building temperatures, and preventing heat stress are being discussed around the country. Warm states like Virginia and even chillier states like Oregon, are currently writing regulations for employers around this. In fact, CalOSHA is currently writing the rules for maximum indoor temperatures in California facilities.
Furthermore, the Occupational Safety and Health Administration (OSHA) announced its intention to implement a new heat illness standard that will apply to indoor environments just this past Spring. The agency said it has manufacturing facilities in mind, as the rule targets "indoor workers without climate-controlled environments." Moffitt can help you reduce temperatures in your building now, before it becomes a requirement.
Moffitt Can Help You Get Safer Building Temperatures
Moffitt has helped industrial facilities achieve safer building temperatures for over sixty years. From solutions to the worker to solutions for the whole building, we've got your covered. Visit our blog for more workplace safety tips and make sure you and your team stay safe through the summer. You can also contact us today to learn how you can create a better working environment in your facility.