Commercial Ventilation, Industrial Daylighting – The TriadVent
The TriadVent dual-use daylighting natural ventilator is designed for commercial and industrial applications. It provides commercial and industrial daylighting to any interior workspace. Similar ventilation & daylighting units have been in service for over 40 years throughout the world.
What is The TriadVent?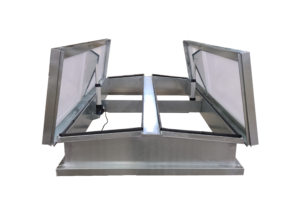 When opened it is an effective natural ventilation device, letting hot air escape from the facility. It also provides ample daylighting through the roof opening. When the hatches close, daylight enters through the translucent panels. The weather-protected hatches can be closed via a manual switch that can automate the opening/closing process depending on what the weather is like.
It provides day-to-day natural daylighting and natural ventilation for low to mid-range temperature facilities. It is ideal for heavy commercial and light industrial applications. This versatility is why the TriadVent is our fastest growing product we carry.
The Features of the TriadVent
Commercial Ventilation
The TriadVent is one of the most effective, small scale natural ventilators available. This passive ventilation exhausts hot air through natural buoyancy. Furthermore, it lets heat naturally flow out of the building without the use of moving parts or electricity. Additionally, it also works with almost no risk of weather damage. The flaps close to prevent water entrance in inclement weather. You aren't going to be risking rain or wind damage when installing the TriadVent ventilator.
Natural Industrial Daylighting
Each TriadVent provides natural Industrial daylighting. Sunlight flows naturally through the roof opening. When the hatches are closed, light enters through the translucent panels. Introducing sunlight into a closed system has been proven to improve workforce morale and productivity. Consequently, this is an effortless way to break up the monotony of artificial lighting in most industries and makes your workforce inspired to be there.
Aesthetics
Finally, the TriadVent is a great looking, low-profile device. If you are looking for an appealing and effective ventilation system for your business, this is the one to use. Unlike a large exhaust vent, this unit is sleek and streamlined. Additionally, each device has plenty of optional features to fit your design needs.
Moffitt Corp
With Moffitt Corporation, we have been working for several years to create the best products for our customers. From our vents and louvers to our daylighting and beyond, we work non-stop to provide the best solutions for your facility. Call Moffitt today to take advantage of bold new dual-use ventilation devices like the TriadVent!