Who is Moffitt's Competition?
Anyone can sell you a fan, only Moffitt can help you find the best ventilation solution. In this video, John Moffitt himself outlines how Moffitt's competition might not be who you think it is. Whether it's the overwhelmed plant manager who decides to do nothing or the customer who buys a random fan off the internet. Lots of different options "compete" with Moffitt. Watch the video to see what he means
See the transcript for video below.
The Overwhelmed Manager Not Doing Anything
People often ask us, "Who is your competition?" Really the first thing we compete with is the customer not doing anything. It can be an overwhelming process solving a ventilation problem and the customer doesn't know where to turn. They get bits and pieces of information from several different sources, it becomes too expensive and too overwhelming for them to consider and they just don't make a decision.
The Local Mechanical Contractor
The second competitor we have might be a local mechanical contractor. These companies are very talented but they do many things every day. A piping system at a hospital, the next day an air conditioning system, the day after that they might be working in an industrial environment. At Moffitt, all we do is industrial ventilation. We are extremely experienced at what is needed to solve a problem.
Moffitt Competes with "Off-the-Shelf Purchases"
The third thing that we compete with is the customer that picks the fan off the internet or out of a catalog. It's easy for them to install a large ceiling fan to try to lower temperatures. People see that they've done something and it's not too expensive to put one in. They feel like they've made a step in the right direction to solve the problem. But in reality, in most manufacturing environments, it's 10 – 20 degrees hotter at the ceiling then it is at the floor. So that brings the hot air that is at the celling, back down to the floor.
Moffitt's Competiton for Ventilation Solutions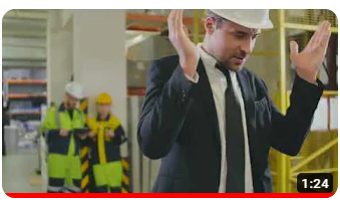 At Moffitt, we're not in the "fan business" or the "gravity vent business", we're in the ventilation solutions business. That means the finding the right ventilation solution for that customer, with a single source turn-key responsibility, to help provide sustainable buildings.
From one perspective Moffitt's competition can be anyone from a huge firm to a simple window. In fact, we even allow help you purchase fans directly through Romlair.com. However, no one will help you find the right solution for your facility like Moffitt.